I'm so happy to have my dear friend Lane McFarland on Welcome Wednesday. All of her books are wonderful. Today she's talking about her newest book.
Thank you for having me
today, Barbara! I'm excited to tell you about my latest book, To Love an Impostor. Here is a little
about the story…
What if you found out the man who you fell in love
with wasn't the man you thought he was?
Consumed with hatred, Captain
Nicholas Randolf Barlow pledges revenge against Bristol's gentry for the
cruelty they inflicted on him and his friends when they were young orphans
struggling to survive on the cruel city streets. Disguised as Nicholas Barlow,
a ruthless, old businessman during the day, the Flintlock Brigand's leader at
night, and Captain Randolf, in between, Nicholas works above suspicion to
abscond with the gentry's possessions and to legally ruin the constables who
failed to show the orphans mercy when they needed it most.
For the past twelve years,
Diana Fleming, daughter of one of Bristol's wealthiest gentry, lived a simple,
yet happy life in a small abbey far away from the bustling city. Her father who
was wracked with grief when her mother died, could not bear to be reminded of
his loss, and sent his only daughter away to live in solitude. Diana, not
willing to fade away quietly, finds comfort and purpose in tending the orphans
of the abbey. When the small sanctuary is ordered to close, Diana returns to
Bristol to beg her father for help with the raising of her ten orphan children,
but instead discovers that her father died because of Nicholas Barlow. Now
penniless and desperate, she's determined to destroy the man who murdered her
father.
Nicholas's archenemy's
daughter impresses him with her bartering skills and convinces him to rent her
one of his homes. When he learns that she intends to raise a group of orphans
on her own, his heart softens. As the Flintlock Brigand's leader he delivers
much needed supplies to her at night. During the day, Captain Randolf helps her
with the children. If she discovers that all three men are really the same
man—the one she blames for her father's death—she will loath him for all
eternity.
Can Nicholas forgo his
vengeance and be truthful to Diana about his identity? Will Diana be able to
forgive him, or will she hate him forever?
(This is in a
scene when Diana searches through her father's home after his death.)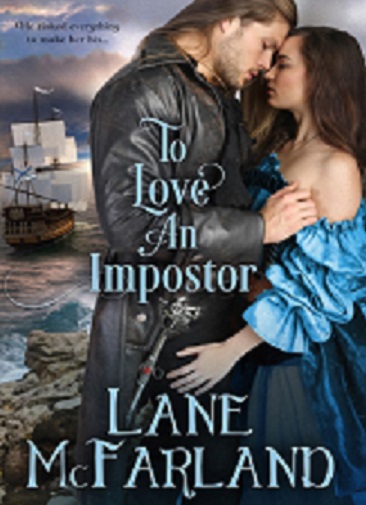 Diana dropped to her knees and rummaged through the
chest beside the bed. Heavy feathered blankets were folded on top of thick
wraps. She slid her fingers over the soft fabric and found a box. What
treasures did it hold? She opened the lid and peered inside.
Several small silver broaches, a brass buckle, and a
silk purse lay over a miniature portrait of Mum and Papa. She moved the items
aside and ran her finger over the couple's likeness. How she missed them. Her
chest tightened and a tear trickled down her cheek.
Strong hands grasped her shoulders and eased her up.
Captain Randolf turned her toward him. "I'm sorry for your loss."
She sniffled and looked up at him through watery eyes.
"How can you be? You work for Mr. Barlow. That evil man killed my father."
The captain straightened and shook his head. "No, Mistress
Fleming. It wasn't like that."
"Because of him, my father's gone. I will never see
him again." She choked on the words.
Captain Randolf pulled her to him, wrapped his arms
around her, and let her cry into his broad chest. He rubbed her back but didn't
speak. She soaked up his compassion and spent her tears. It felt so good to
have someone hold her, let her release the pent-up emotion, and make her feel
secure, even cared for. Just for a brief moment.
She straightened and, staring at her feet, she steadied
her breathing. She should never have lost control of her emotions in front of
Barlow's man. Surely upon hearing the tale, the murderer would delight in her
distress.
He tipped her chin up with a finger. "I truly am sorry
for your loss."
Struck by his sincere gaze, she wanted to return to
his strong embrace, have him hold her for a minute longer. Instead, she backed
away.
He frightened her. No, her reaction to him frightened
her.
"Thank you. I…I think it's time I should return home."
He bowed slightly and extended his arm to the front
door. "I'll gather these last few items before we leave."
Numb, emotionally
drained, and dazed from this man's touch, she nearly stumbled to the door.
Starting out as an
accountant in line with the rest of the corporate echelons struggling up the
proverbial ladder, Lane soon realized the long nights and numerous weekends of
closing books and reporting financial results no longer appealed. So, she
decided to hit the road selling financial software. Jumping from one
high-pressured frying pan into the other, the stress of the road-warrior life
and constant deadlines took its toll. She needed a release and found that with
her face buried in historical romance books, she could escape to worlds of
intrigue with timeless love and happily-ever-after endings. Today, she is
fortunate to have found her true passion in writing of spirited heroines and
to-die-for-heroes and the romantic love stories between them.

Lane is a southern girl living on top of a mountain in North Georgia, and she's
most happy when surrounded by family and friends. If she is not writing, you
can find her hiking with her husband, or fiddling around in her flower and
vegetable gardens, feeding the birds and watching black bears and deer.

Lane loves to hear from readers! Please drop her a note at
mcfarland.lane@gmail.com; tell her about yourself and let her know what you
like to read and would like to see in future books and series.