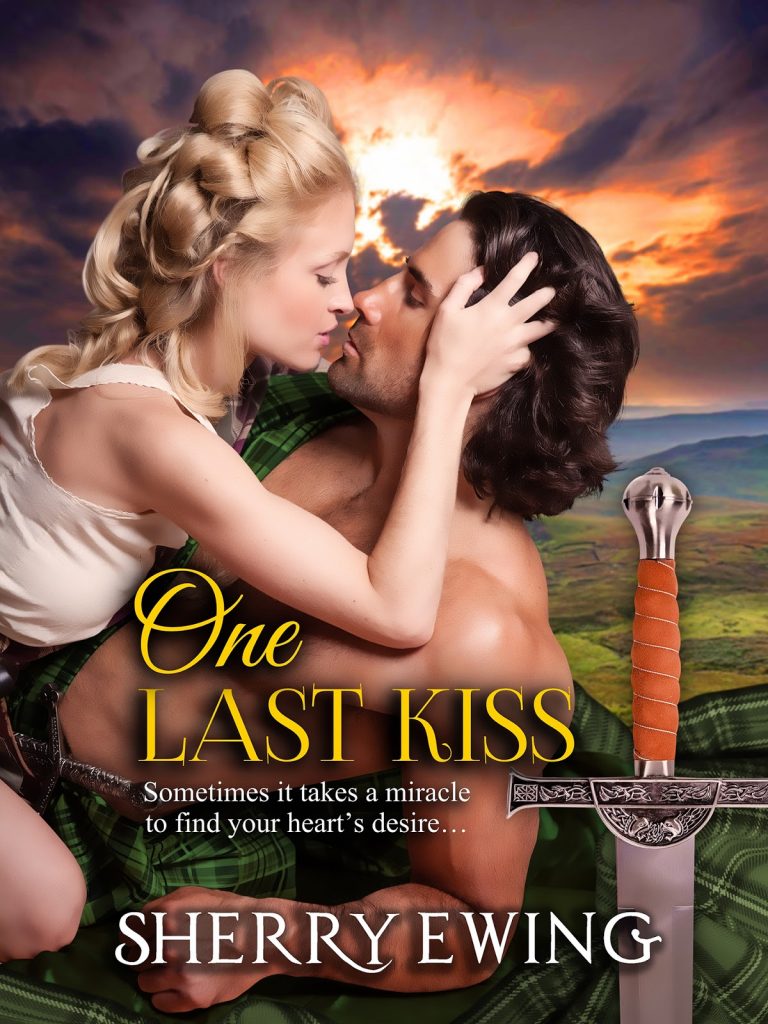 Let's welcome the very talented Sherry Ewing to Medieval Monday. She's sharing a look at her latest publications, O
ne Last
Kiss: The Knights of Berwyck, A Quest Through Time (Book Five).
With a cover like this one, the novella has got to be absolutely terrific!
So here's peek at her Bad Boy/Villain–the theme of the Summer blog tours.
Don't forget to leave a comment for her drawing for a copy of the book. All drawings will be at the end of the blog tour in early September.
Blurb:
Sometimes it takes a miracle to find your
heart's desire…
Scotland, 1182: Banished from his homeland,
Thomas of Clan Kincaid lives among distant relatives, reluctantly accepting he
may never return home… Until an encounter with the castle's healer tells him of
a woman traveling across time—for him.
Dare he believe the impossible?
Present Day, Michigan: Jade Calloway is used to
being alone, and as Christmas approaches, she's skeptical when told she'll
embark on an extraordinary journey. How could a trip to San Francisco be
anything but ordinary? But when a ring magically appears, and she sees a
ghostly man in her dreams…
Dare she believe in the possible?
Thrust back in time, Jade encounters Thomas—her
fantasy ghost. Talk about extraordinary. But as time works against them, they
must learn to trust in miracles.
Can they accept impossible love before time
interferes?
One Last Kiss is a medieval/time travel in my Knights of Berwyck series. It
first appeared in the Bluestocking Belles' 2018 box set Follow Your Star
Home. This novella is now available for individual sale. Release date: July
11, 2019.
**************************************
EXCERPT:
"Aye, your horse," he
replied with a quizzical look. "'Tis the account I heard tell from Lord Dristan
on why I found you in such a condition."
So, that's what they told
everyone instead of the truth of my being from the future because really… who would believe such an outrageous story?
God forbid what would happen to her if these people knew where she really came
from. A brief image of being burned at the stake caused her to gulp hard.
Be sure to leave a comment
for Sherry to be in the running for her giveaway – an eCopy of One Last
Kiss. A winner will be randomly selected and announced on Medieval Monday,
September 9th.
Miss last week and a chance to comment? Check it
out here:
Buy Links: