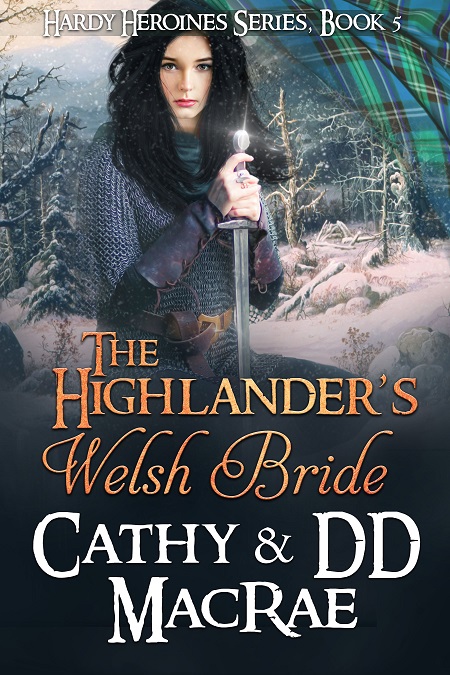 Today I welcome award-winning Cathy MacRae to Medieval Monday. Cathy's featuring The
Highlander's Welsh Bride. The book is number five in her popular Hardy Heroines Series.
Although the Medieval Monday current theme deals with villains and bad boys, here we get a tantalizing look at the hero, Birk MacLean, who is determined to protect Welsh Princess Carys.
It was over
.
Prince Llywelyn was dead,
his soldiers fleeing before King Edward's army. Carys, a distant cousin to the
prince, herself a princess of Wales, had picked up arms alongside her husband
more than a year ago. Now homeless, her husband buried beneath the good Welsh
soil, she seeks shelter in the north, far from the reach of Longshanks's men.
Carys and Wales would never be the same again.
Birk MacLean has been ordered to take a bride
and produce an heir. He grows weary of the lasses paraded before him, women of
delicate nature and selfish motives. He desires a wife strong enough to help
lead one of the most powerful clans in Western Scotland.
One like the Welsh woman sitting in his dungeon,
arrested for poaching MacLean deer.
Can Birk convince Carys marriage to him is
preferable to a hangman's noose? And will the heard-headed Scot be worthy of a
Princess of Wales?
From the towering Welsh mountains to the
storm-swept Scottish coast comes a tale of betrayal and loss, deceit and passion.
An epic tale of honor and the redeeming power of love.
Excerpt:
(A Welsh
princess on the run from King Edward's army, Carys finds herself embroiled with
pirates pillaging the western coastline of Scotland. She has escaped their
clutches twice before. Has her luck at last run out?)
I should be protecting them
. Birk raked a hand through his hair, grudgingly recalling tales
of Hanna in years past. With a grunt, he acknowledged she and Carys were far
from helpless, and possibly better fighters than many of the sailors. He did
not have time to worry. The pirate ship, larger than the one that had
threatened them near Morvern, drew closer.
"This is not the same ship," Carys remarked as
she stepped to his side.
He nodded. "And 'tis too far south. My men have
scoured the coastlines from Dairborrodal to Oban and not discovered their
lair."
"Mayhap the question is not, why are they so
far south, but rather, why was the other ship so far north?"
Don't
forget to leave a comment for a chance to win an ebook (kindle) of The
Highlander's Welsh Bride!
And if you'd like to read the latest snippet of Barb's excerpt, please visit Cathy's blog:
https://www.cathymacraeauthor.com