We're in for a treat on Welcome Wednesday
with best-selling author Donna Hatch. Donna has joined up with two of her
writing buddies in a lovely new anthology A WEEK IN BRIGHTON.

The tr
io of sweet romances just passed its
first month's anniversary, having been released July 30.
In celebration of the debut, I'm giving
away a copy of the book. All who leave a comment here and on my author page will be
entered into a drawing for the sweet romance collection.
Author page:
http://www.facebook.com/BarbaraBettisAuthor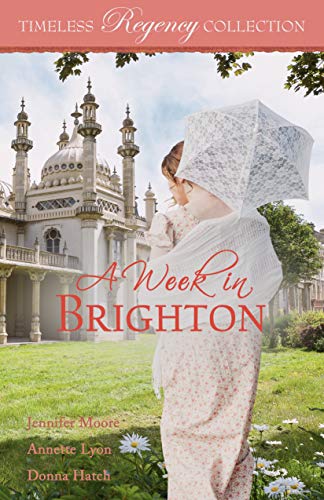 Here, Donna gives us a glimpse of the
three offerings.
Every woman dreams of
love, but is a week in Brighton long enough to find happily ever after?
Announcing a new release:
A Week in Brighton, a collection of three sweet historical
romances by three best-selling authors, Donna Hatch, Jennifer Moore, and
Annette Lyon
THE RELUCTANT HEIR by Donna Hatch

Angry and grieving over his brother's sudden death, Rowan turns his attention to
finding his late brother's long-lost love so he can personally inform her of
the tragedy. One problem: he only has a lock of her hair, a miniature painting
of her eye, and the name "Ann" as clues to her identity. With far-reaching
dreams of being a renowned artist, Isabella has one shot at becoming one of the
few women to be accepted as a student under a local art master. But when she
encounters a mysterious gentleman searching for his late brother's love, her
heart tugs on her to help the lost soul. Helping him may mean sacrificing her
dreams, and worse—falling in love with a man she cannot have.
THE GRANDE HOTEL BY THE SEA by Jennifer Moore
After years of planning, Arthur Grande's vision
for a luxury hotel in Brighton is finally becoming a reality. But unlike the
rest of the town, Daphne Dayley isn't taken in by the newcomer's cheerful smile
or generous nature. She sees only a wealthy opportunist threatening to close
her parents' bakery. With the lease expiring in one week, the two clash in a
battle of wills and wits. But they both come to discover that ambitions which
had once seemed so clear may evolve when hearts are softened.
SIGNS OF LOVE by Annette Lyon
When the Hughes family vacations in Brighton,
Julia goes exploring for fossils along the Undercliff path—a hobby she's
developed thanks to her curiosity in science. Instead of finding fossils, she
stumbles upon Silas Hayward, a handsome wine smuggler, and one of his crew. She
slips away undetected but is intrigued by Hayward and drawn to him later at a
ball held at the Royal Pavilion. Her long-time friend Andrew is in love with
Julia and declares his heart to her at the ball. She's stunned and doesn't know
how to answer, but right then, Mr. Hayward conveniently takes her away to the
dance floor. The distraction is brief, however; Julia quickly learns that the
Hayward is far more than a harmless wine smuggler: he's a traitor to the
nation. If she can't stop his plot with Andrew's help, the country will fall to
Napoleon.
From the publisher of the USA TODAY bestselling
& #1 Amazon bestselling Timeless Romance Anthology series in Regency
Romance, comes A Week in Brighton. Featuring bestselling
authors Jennifer Moore, Annette Lyon, and Donna Hatch.
A Week in Brighton
is a Timeless Romance Anthology® book

The Reluctant Heir by Donna Hatch
Excerpt:
Rowan trotted towards the young woman
in the meadow. "Ho,
there! Are you looking for a kitten?"
She halted, her stance alert. If he were to wager as to her age, he'd put her somewhere between seventeen and twenty.
Donna Hatch
As he neared, her posture relaxed. "Oh,
there you are, Mimi." The young lady glanced at Rowan and returned her gaze to
the kitten in his hand, but not before he caught her glance of appreciation.
She pushed at a dark curl peeking out from underneath her straw bonnet and
blushed prettily. He might have changed in many ways over the past few days,
but at least he had not lost his appeal to ladies.
"Thank you, sir." Her voice rang out in
a clear contralto with the cultured tones of a lady.
"Wherever did you find my kitten?"
He waved a hand over his shoulder in
the direction of the tree. "Caught in a snare."
She reached for the furball. "Oh, you
poor little thing! Naughty kitten, running off like that," she gently scolded.
Rowan handed over the kitten without
taking his gaze off the young lady. Pretty didn't seem to quite fit. She was
lovely in a way that a clear brook with sunlight glittering on the playful
surface is lovely. Of course, brooks don't generally bear a pair of kissable,
full lips. A stirring inside him pressed against his barrier of sorrow.
Her gray eyes fixed on Rowan, and the
girl smiled, a blast of white and joy and cheer. "Oh, good sir, how can I ever
thank you?"
"A kiss would be a very nice thank
you." He turned on his most alluring expression.
Instead of blushing in shocked delight,
she laughed— not the giggle of a coquette but a sound of true mirth. "It might
be nice for one of us, but I daresay that wouldn't be me."