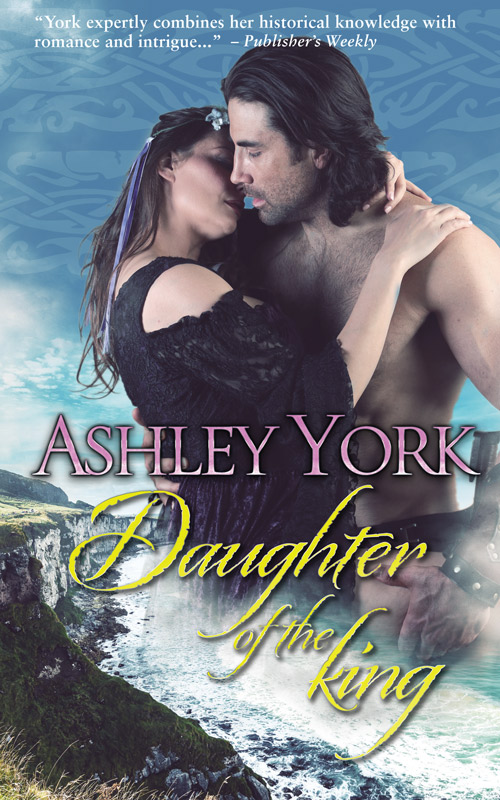 Our Medieval
Monday Bad Boy/Villain theme has nearly ended. Here in our next to last
installment is award-winning author Ashley York with DAUGHTER OF THE KING, Book
Three in The Warrior Kings series. Be sure to comment to be entered in
the drawing for a copy of her book week after next.
Here's Ashley's exciting snippet.
BLURB:
A mistaken identity. A gruesome murder.
Brighit of Clonascra despises the trappings
and demands of womanhood and is far more comfortable training for battle. Long
held alliances require she set aside selfish dreams and take Darragh as her
husband. The union intended to promote peace between the clans is interrupted
by the shocking murder of a neighboring king and she quickly discovers there
are far worse things than being wed.
Darragh of Drogheda has no wish to be king,
but he is an obedient son and supports his father's plans. His marriage to
Brighit, however, will be no hardship at all since he finds her most intriguing
when she fights him at every turn. A she-warrior indeed. Her persistent
dismissal of him merely blows the fire aflame and sets him down the path to discovery
of all her most tightly held secrets—secrets that could cost him his
life.
BUY LINK:
https://www.ashleyyorkauthor.com/daughter-of-the-king
EXCERPT:
Seigine
glanced at the men with him. When all nodded their agreement, he turned to face
Tadhg again and said, "There was little choice. We must seek revenge. A leader
is required."
"Ye signed the treaty and we will give assistance as
agreed."
"I need only the blood of the man who killed my brother."