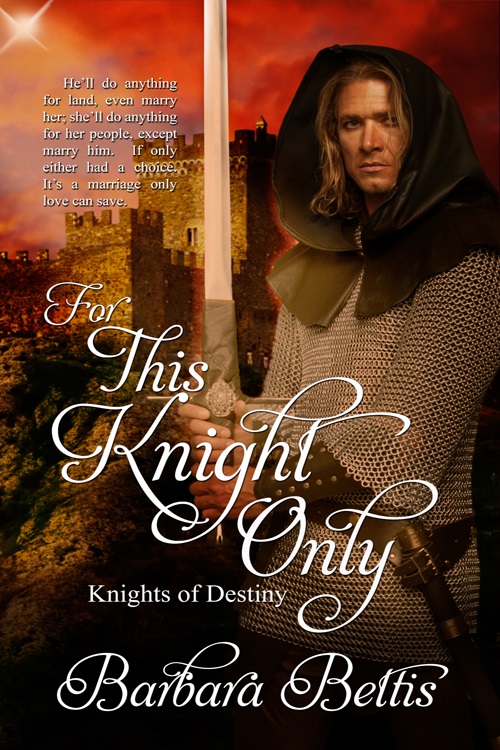 Happy Labor Day, everyone. And welcome to Medieval Monday's last post in the Villain/Bad Boy themed blog tour. Today, each author is posting the last snippet from her chosen novel's excerpt. I hope you've enjoyed the series are much as we all have loved spotlighting them for you.

I've been featuring a section from my latest Wild Rose Press release FOR THIS KNIGHT ONLY. Roark and Alyss's story features a villain fans–and I–have enjoyed over a three-book span. That's the manipulative Sir Paxton. Just to give everyone the full introduction to him, I'm reprinting the entire excerpt from which all the snippets have come.

Next week, I'll announce the name of the winner of the free copy of the book. So be sure to leave your email below with your comment.

EXCERPT:

Paris, February, 1194
In a crisp, star-crinkled midnight sky, haloed by
a ring of clouds, the late-winter moon hung low. Shadows spiked across the
courtyard, ghostly reminders of the dormant trees from which they slipped. A
smaller shadow flicked between them, moving silently toward the castle's black
bulk.
The snap of heel against rock was deadened in the
closeness of the cold air, yet it seemed to ring in Sir Paxton of Corbeau's
ears. He flattened against the stone wall, then eased to the edge and carefully
peered around the corner. No one in sight.
Why the hell am I trying to hide? He was a knight returned from a dangerous
mission and should be welcomed. No doubt he would be, soon.
Sir Paxton moved quietly in the darkness,
nonetheless. Prince John likely had heard of the battle's outcome by now. The
would-be king would want to know why Paxton delayed in reporting.
He'll
have his royal prick in a knot. Well, Hades. I couldn't travel fast with
a slashed arm, could I?
He scratched on the wooden panel, an entry he'd
used before, counted to four, then scratched again. After waiting what seemed
an eternity, the door opened a sliver, and he pushed his way in. When he saw
whom he'd shoved aside— Shite. He dropped to one knee.
"My lord."
He wasted no words. "The king lives."
Eyelids lowered to a slit, John watched him. "So I learned not two days past," he at last
said, softly. "Why?"
"I was wounded, my lord, and I—"
"Did I ask about your health? I referred to the
outcome of the attack."
Paxton shook his head. He eased his aching arm to
rest on his bent knee. "God knows. The plan
appeared to work. The king's party was separated from the rest of the group.
The fools actually went hunting. When we attacked, Cantleigh moved his men in
from behind, as planned. Then something happened. A noise—a shout. It alerted
the king's men."
Prince John turned away and walked toward the
center of the bedchamber. Candlelight muted the purple and gold of the robe he
wore and etched his features, making the nose seem sharper, the intelligent
eyes more menacing. He gestured. Paxton
rose and followed.
The chamber was empty but for the two of them. No
woman. Surprising for this time of night.
John must have been expecting him.
Flickering light cast the men's shadows long and
narrow against the far wall. Paxton watched as those dark forms undulated in
the silence. He caught smells of candle wax and heady perfume, underscored by a
trace of body odor and woman's musk. So
the royal cock hasn't been alone. No wonder he made me wait so long at the
door.
Waiting for the king's brother seemed to be Paxton's
lot in life. And waiting for him to speak now rated worse than facing a trio of
soldiers on the battlefield. He could
at least defend himself there.
"Did any of Cantleigh's men survive?" The sudden
sound of the prince's voice made
him start.
"None of those with him."
"Jenkins as well?"
"Dead."
Prince John's pacing ended in front of Paxton, who
wove slightly in pain and exhaustion. The prince pointed to a bench near the hearth.
"Sit before you fall."
His mouth pursed, John stared at him. "And what
does the king say of the matter?"
"In the confusion of fighting, he couldn't see the
attackers clearly. I suggested someone may have followed from Mainz, people
unhappy with the terms of his ransom. The dead carried no identification, just
as instructed. Richard is convinced they were outlaws on the prowl for rich
travelers."
Looking smug, Paxton added, "As for Sir Martin and
his three, the king believes they died defending him. I, myself, am recovering
from wounds at a snug little farmhouse with excellent ale stocked by a charming
widow."
John nodded once. "That is the story, then. Go
home. Clean yourself up and rest."
Paxton had turned when he heard, "You identified
Cantleigh?" At a nod, John drawled, "Was anything found on him?"
Incriminating evidence, perhaps? Are you
becoming careless in your panic?
"Nothing." Paxton hesitated. He dreaded to relate
this part, but he didn't dare omit it. "Two of his knights were before me when
I came upon the body. One held something. It may have come from Sir Martin."
"And this something was. . .?"
"A leather packet? I couldn't see clearly. I hid until
they left."
"Did you know them?"


"Only Sir Roark, Cantleigh's captain. The plan
didn't include him. Cantleight said the man had a peasant streak of morality.
Has a reputation as a fighter though."
He paused, eyeing John. He knew that stare, had seen
it countless times in the four years he'd served the king's brother. It made
even Paxton edgy. John sat, leaned back in an ornately carved wooden chair, his
fingers tented before his lips. For a moment he did not speak, he did not
blink, and—Paxton could swear—he did not breathe.
The silence drew out until John murmured, "Pity
you were so careless as to be injured. Such an inconvenience. Still, report
tomorrow. I have a different commission for you."
Whether or not he wanted to, Paxton would be
there. Time for my reward, Johnny. Oh— so sorry my royal arsehole, ' Prince'
John.
Time for a promise to be fulfilled.
****
The private door had scarcely closed when John stalked
into the adjoining room. Shoulders hunched, robe tucked tightly, he walked to a
window and stared past his dim reflection
in the wavy glass, out into the moon-frosted
garden. The wintering plants lay dead to the look, but spring would see them
bloom again. With a little expeditious pruning. Much like his plans.
He'd received word of Sir Jasper's death from his
informant at Windom. Struck down attacking a neighboring castle, the fool. John
wanted that land near Nottingham secure, even if he had been forced to leave England. Sir Paxton would do it. Make that
Lord Paxton.
John smiled. One
problem solved. Now for another. He needed
to retrieve a certain leather pouch. Its contents should have been destroyed
long since. He sighed with cynical regret. You couldn't trust anyone these
days.
He'll do anything for land, even marry her; she'll do anything for her people, except marry him. If only either had a choice. It's a marriage only love can save.
Sir Roark will do anything to gain land, even beguile an unwilling lady into marriage. He knows she's much better off with a man to take control of her besieged castle, to say nothing of her desirable person. But it isn't long before he discovers that, although her eyes sparkle like sunlight on sea waves, her stubbornness alone could have defeated Saladin.
Lady Alyss is determined to hold her family's castle, protect her people, and preserve her freedom— until her brother's dying wish binds her to a stranger. Still, she'll allow no rugged, over-confident, appealing knight to usurp her authority, even if she
must
wed him. Especially since he thinks a lady's duties begin and end with directing servants. Alyss has a few surprises for her new all-too-tempting lord.
But when a common enemy threatens everything, Roark and Alyss face a startling revelation. Without love, neither land nor freedom matters.