Help me welcome today's guest, Delsora Lowe, who has just released the second in her Cowboys of Mineral Springs series, THE RANCHER NEEDS A WIFE, a delightful contemporary Western.
So glad you're here today, Delsora. I love the sound of this series. Please tell us about Carter's story.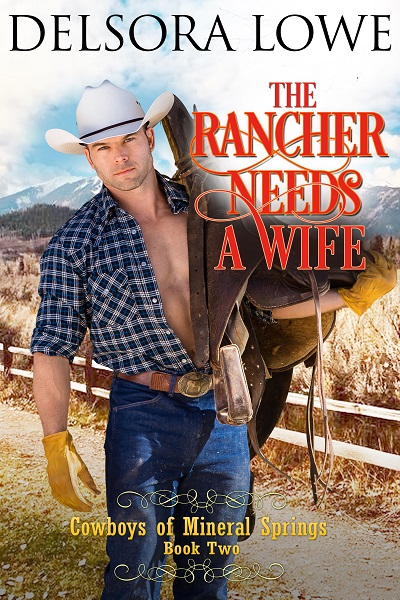 I am excited to announce the release of book two of the Cowboys of Mineral Springs, The Rancher Needs a Wife. One question an author most often hears is where do you get your ideas? Your Inspiration?
Book one, The Prince's Son, and the entire series was inspired by my daughter's employment as a ski instructor for young children of the wealthy and famous in the Aspen, Colorado area. The idea for the prince came from her stories about a Middle Eastern prince who owned a ranch in the area. I originally wrote a very short story on these two, the ski instructor and the prince, as the hero and heroine. The idea stuck, and the next thing I knew I had written an entire novel.
The heroine's brother played a big part in book one, so, even though I had not planned to write a series, I now have six so far and ideas for more. Carter Peters is the hero in The Rancher Needs a Wife. Carter was the impetus behind writing a series. As I was having trouble figuring out what made my prince act the way he does, I realized he was a lot like the heroine's brother. No wonder they clashed in book one.
The sheriff, Quil, who played a minor role in book one, is Carter's best friend and blood brother, who was adopted by the Peters' family as a young boy when he lost his parents. Quil plays the confidant role in Carter's story and will have his own book next year. So stay tuned.
Both book three and four are written. I hope to release each in 2020. Books five and six are in very rough draft forms, so who knows when those will release. I guess I better get busy.
The inspiration for my cover of The Rancher Needs a Wife, came from my daughter's photo taken while hiking in Colorado. When I showed it to my cover artist, CoversbyKaren, she loved it. So part of the photo was used as the background of the newest cover.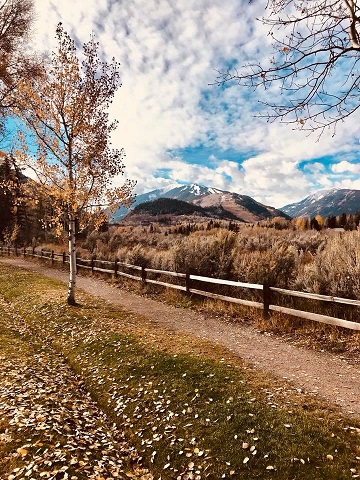 The Rancher Needs A Wife
Blurb
WANTED: Workaholic cowboy needs hardy woman to manage household and motley family. "Girly" widows, with small children, who sell naughty lingerie need not apply.
Overprotective big brother and ranch owner, Carter Peters, draws the short straw at a contrived family meeting to buy his stepmom's sixtieth birthday present. He never imagines while on the present-buying quest he'll get zapped with cupid's arrow by a feisty southern belle, single mom, and lingerie shop owner who is so wrong for him and has off-limits written all over her. He has no time for romance—he has a ranch to run and a father who, despite being "retired," can't help micro-manage. Dad insists Carter's new-fangled ways won't work.
Lynette Mercer wants nothing to do with the tall, sexy, and slightly bashful cowboy who walks through her door. Okay, maybe just a little. They could be friends. After all, she's vowed not to date until her four-year old reaches the ripe age of thirty-six. She's recovering from the death of her husband in a marriage turned bad, and starting a new business.
With new friends and Carter's family determined to marry him off, neither stand a chance against cupid or a town full of caring folks.
The Rancher Needs A Wife
Excerpt
She finished a dance with Rocky, a cowboy who had grown up on the ranch with Mitch Peters. He left her breathless as he twirled her around the floor in a lively two-step that she finally gotten the hang of.
"My, oh my, you have some fancy foot-work."
The older man blushed. "Thank you, ma'am. I 'preciate the dance."
"I'm tuckered out." She fanned her face with her hand. "I'm going to duck out for a breath of air. Thank you again, Rocky."
She drifted through the wide doorway, regaining a bit of energy once the cool air hit her warm body. She headed toward the edge of the large yard leading to the ranch house. The music dimmed. Dusk settled around her.
When she reached the green lawn, she turned and looked back toward the barn. Soft light spilled from the open doors, picking up the glint of pebbles scattered over the dirt drive. The thin line of gray-blue sky outlined the surrounding mountain tops and blended into midnight black above her head.
She arched her back and swept her hair up in one hand to cool off her neck while she took in the breathtaking display of twinkling stars. The full moon shoved its way free of a drifting cloud to shine bright, casting shadows across the rugged landscape.
The crisp air and slight breeze brushed over her to dry the perspiration after her exertion on the dance floor. A shiver zipped through her, the night chill in contrast to the heated barn full of moving bodies and pulsing music.
"You cold?"
Out of the shadows near the barn came the deep voice she'd longed to hear all night.
She turned toward the wide expanse of barn silhouetted against the moonlight. Carter sauntered from the shadows, removing his light-weight jacket.
He stopped inches away, his presence sucking the air from her lungs, and draped his jacket around her shoulders. The scent of pine and leather and Carter wafted up to surround her.
Oh, lordy. She wanted to swoon.
"Hey." She was sure the barn cat had captured her tongue. Foolish really.
In the distance, a night bird called.
Amazon
https://www.amazon.com/Rancher-Needs-Cowboys-Mineral-Springs-ebook/dp/B07YXB5C4W/
Books2Read (includes B&N, Apple, Kobo, and others)
books2read.com/u/bxv56d
Social Media Links
Author website: www.delsoralowe.com
Author FaceBook page: fb.me/delsoraloweauthor
Amazon Author page: https://www.amazon.com/Delsora-Lowe/e/B01M61OM39/ref=ntt_dp_epwbk_0
Books2Read Author page: https://www.books2read.com/ap/8GWm98/Delsora-Lowe
BookBub Author Page: https://www.bookbub.com/authors/delsora-lowe-93c6987f-129d-483d-9f5a-abe603876518
Goodreads Author Page: https://www.goodreads.com/author/show/16045986.Delsora_Lowe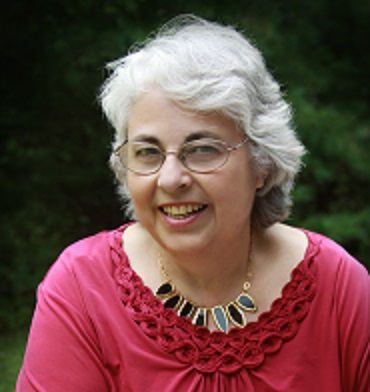 ~ cottages to cabins ~ keep the home fires burning ~
Delsora Lowe writes small town sweet romances and contemporary westerns from the mountains of Colorado to the shores of Maine.
Author of the Starlight Grille series, Serenity Harbor Maine novellas, and the Cowboys of Mineral Springs series, Lowe has also authored short romances for Woman's World magazine.