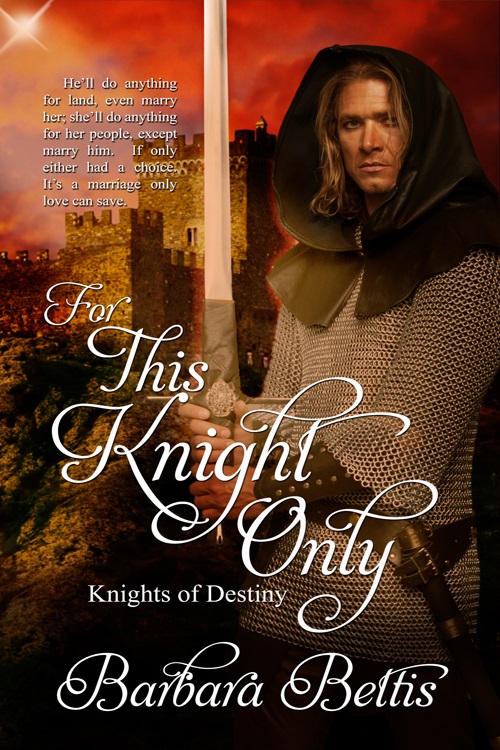 WELCOME BACK TO MEDIEVAL MONDAY. Our new theme is Celebrations. Each author in this three month exchange has selected a large excerpt from her featured book. That large excerpt is broken down into snippets that are featured each week on fellow Medieval Monday authors' blogs.
We will begin and end the exchange with a segment featuring our own books. To Begin: Here's For This Knight Only.
This excerpt leads up to Roark and Alyss's wedding. To set the scene. Sir Roark has come to Chauvere Castle with word that Lady Alyss's brother, who was killed while protecting the King Richard, had asked Roark to marry Alyss in order to protect her, Chauvere, and its people. Alyss is suspicious of Sir Roark's claim, and he must use all the techniques he can think of to persuade her.
Here's a reminder of what's at stake for both Roark and Alyss.
Blurb:
He'll do anything for land, even marry her; she'll do anything for her people, except marry him. If only either had a choice. It's a marriage only love can save.
Sir Roark will do anything to gain land, even beguile an unwilling lady into marriage. He knows she's much better off with a man to take control of her besieged castle, to say nothing of her desirable person. But it isn't long before he discovers that, although her eyes sparkle like sunlight on sea waves, her stubbornness alone could have defeated Saladin.
Lady Alyss is determined to hold her family's castle, protect her people, and preserve her freedom— until her brother's dying wish binds her to a stranger. Still, she'll allow no rugged, over-confident, appealing knight to usurp her authority, even if she must wed him. Especially since he thinks a lady's duties begin and end with directing servants. Alyss has a few surprises for her new all-too-tempting lord.
But when a common enemy threatens everything, Roark and Alyss face a startling revelation. Without love, neither land nor freedom matters.

Excerpt

A few tables pushed up against the wall were being set with pitchers of ale and platters of meat pasties. The servants' talk quieted as he walked to the center of the room and looked around. Roark spied the female who had attended Lady Alyss earlier.
He motioned to her. "What are you called, girl?"
"Rose," she answered, eyes lowered.
"Well, Rose, go and tell your lady that I await her." He turned to Father Eudo. "Are you ready?"
The priest looked at Roark for a long moment before he nodded once.
They did not talk while they waited. Muffled sounds drifted down from the solar, then a heavy door slammed. The maid reappeared, a sly look on her face.
"Milady said you could wait until doomsday. Sir Roark." The courtesy title was added begrudgingly. From somewhere among the servants came muffled laughter. Roark set his jaw and headed for the stairway. When he reached the solar, he lifted a foot and kicked open the door.
To see what effect his entry has on Alyss, follow next week at Laurel O'Donnell's blog: https://www.laurel-odonnell.com/blog.html