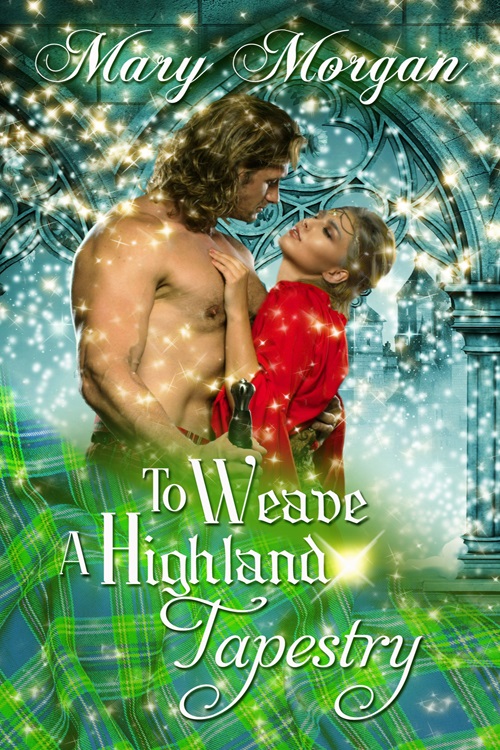 Today you have a special treat in store– a peek at an exciting new book. Help me welcome my friend and fellow Rose author, award-winning Mary Morgan, with her new entry in her popular Order of the Dragon Knights series, TO WEAVE A HIGHLAND TAPESTRY. The book will be out in just one week–Monday, Dec. 9.
BLURB:
Patrick MacFhearguis, hardened by battles won and lost, desires what he can never have—peace within his heart and soul. Yet, the ever-meddling Fae weave a new journey for him to conquer—a task this highlander is determined to resist.
When skilled weaver, Gwen Hywel, is commissioned to create a tapestry for the MacFhearguis clan, she embraces the assignment. While seeking out ideas, she finds herself clutching the one thread that can alter the tapestry of her life and heart.
A man conflicted by past deeds. A woman with no family of her own. Is it possible for love to unravel an ancient past, in order to claim two badly scarred hearts? Or will the light of hope be doused forever?
Buy Links:
Amazon: https://www.amazon.com/Weave-Highland-Tapestry-Dragon-Knights-ebook/dp/B07Z2ZWQW7/
Barnes & Noble: https://www.barnesandnoble.com/w/to-weave-a-highland-tapestry-mary-morgan/1134375461?ean=9781509229079
AppleBooks: https://books.apple.com/us/book/to-weave-a-highland-tapestry/id1483415813?mt=1
Book Page: https://www.marymorganauthor.com/to-weave-a-highland-tapestry
EXCERPT:
She tilted her head to the side. Her joyful expression faded. "May I ask why?"
Reaching for her hand, he caressed her fingers. "Never. Leòmhann has seen many a Midwinter feast, but no one dared to place these kissing boughs within the castle."
Once again, Patrick was reminded of the curse which surrounded his home. He looked down at her tiny hand. What could he offer Gwen? Why did he continue to pursue her without the promise of tomorrow? Should he confess all to her now?
Follow along next week on Ashley's blog here: https://www.ashleyyorkauthor.com/blog For last week's excerpt: https://www.cathymacraeauthor.com/bits-n-bobs-author-blog
Here's where you can find my excerpts throughout the round.
Nov. 25: https://www.laurel-odonnell.com/blog.html
Dec. 2 https://www.marymorganauthor.com/blog
Dec. 9 https://bambilynnblog.wordpress.com/
Dec. 16 https://sherryewing.com/blog/
Dec. 23 http://ruthacasie.blogspot.com/
Dec. 30 https://judithmarshallauthor.com/blog/
Jan. 6 https://www.cathymacraeauthor.com/bits-n-bobs-author-blog
Jan. 13 http://lanemcfarland.com/blog/
Jan. 20 https://www.ashleyyorkauthor.com/blog
Jan. 27 http://www.barbarabettis.com/index.php/blog/