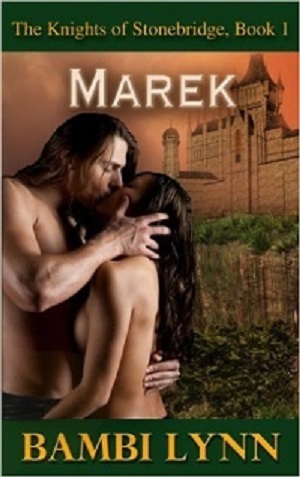 TODAY'S TANTALIZING TREAT IS FROM MULTI-TALENTED BAMBI LYNN, WHO GIVES US A LOOK AT HER EXCITING TIME-TRAVEL NOVEL , MAREK. It's the fist book in The Knights of Stonebridge series.
AND IF YOU'RE FOLLOWING ALONG WITH MY EXCERPT FROM ROARK AND ALYSS'S STORY, YOU'LL FIND IT ON BAMBI'S BLOG: https://bambilynnblog.wordpress.com/
BLURB:
Boring accountant, Kitty Petty, struggles to get through each day one at a time since the brutal murder of her husband. She spends every free moment caring for her young daughter, until the night she wakes to find her bed on fire.
Kitty doesn't know how she got to the year 1196, much less how to get back. But if she doesn't, her daughter will be institutionalized. Having failed to save her child from the clutches of a madman. Kitty vows to protect her future. But going back to her time means risking her own life and separating her from the knight she has grown to love.
Marek Stone wants to protect his wife from the people of Stonebridge. Katherine has been declared a demon after her miraculous rise from the funeral pyre, and the villagers want justice.
Kitty must return if she has any hope of saving her daughter. However, the knight who loves her will do anything to make her stay.
BUY LINK:
Amazon: https://www.amazon.com/gp/product/B00HTNV5F0/ref=as_li_qf_asin_il_tl?ie=UTF8&tag=bourdbooks-20&creative=9325&linkCode=as2&creativeASIN=B00HTNV5F0&linkId=257792fe5012095e3ec7f85afd284768
EXCERPT:
Thane, who sat next to Bria, leaned behind his niece to speak to her. "Sister," he said with a lowered voice only she could hear. "I have been forced to contend with talk of you among many of the villagers. It is not wise for you to suddenly appear out of a fire. I can only do so much to protect you. I beg you not do it again."
Kitty smiled at him. "I promise." She reached beneath the table and pulled out one of the carpet bags she'd brought with her. "I have something for you."
Follow Bambi's excerpt next week at: https://www.cathymacraeauthor.com/bits-n-bobs-author-blog
Want more? Check out Bambi's web site: www.bambilynn.net
Here's where you can find my excerpts throughout the round.
Nov. 25: https://www.laurel-odonnell.com/blog.html
Dec. 2 https://www.marymorganauthor.com/blog
Dec. 9 https://bambilynnblog.wordpress.com/
Dec. 16 https://sherryewing.com/blog/
Dec. 23 http://ruthacasie.blogspot.com/
Dec. 30 https://judithmarshallauthor.com/blog/
Jan. 6 https://www.cathymacraeauthor.com/bits-n-bobs-author-blog
Jan. 13 http://lanemcfarland.com/blog/
Jan. 20 https://www.ashleyyorkauthor.com/blog
Jan. 27 http://www.barbarabettis.com/index.php/blog/