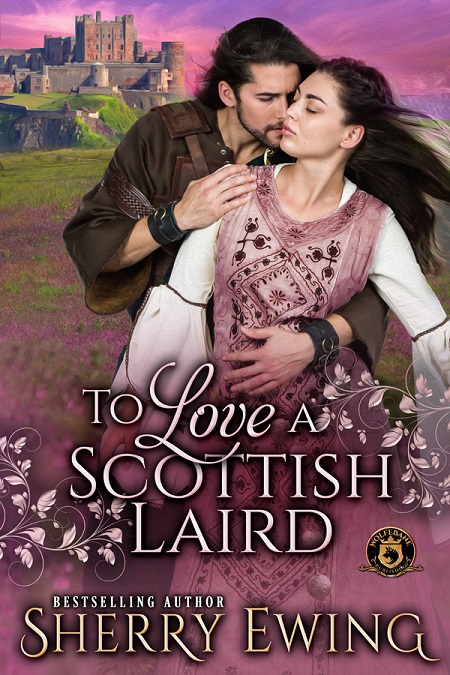 Welcome to the fifth week of our Celebration theme on Medieval Monday, where authors share a celebration from one of our books. This week I'm so lucky to welcome bestselling author Sherry Ewing. Sherry brings us To Love A Scottish Laird: De Wolfe Pack Connected World
Blurb:
Sometimes you really can fall in love at first sight…
Lady Catherine de Wolfe knows she must find a husband before her brother chooses one for her, but none of the knights and lords she knows have caught her eye. A tournament to celebrate the wedding of the Duke of Normandy might be her answer. She does not expect to fall for a man after just one touch.
Laird Douglas MacLaren of Berwyck is invited to the tournament by the Duke of Normandy. He goes to ensure Berwyck's safety once Henry takes the throne. He does not expect to become entranced by a woman who bumps into him.
Before they can express their feelings, the Duke orders them wed to strengthen ties between his English supporters and the borderland, and then separates them by commanding Douglas's escort to his home.
Yet, nothing is ever quite that simple. Not everyone is happy with the union of this English lady and a Scottish laird. From the shores of France, to Berwyck Castle on the border between their countries, Douglas and Catherine must find their way to protect their newfound love.
Excerpt:
As he neared, the earl whispered in his sister's ear. Then he took his wife and son's arms and ushered them to their seats at the high table. Lady Catherine looked rather surprised by the fact that she would have the opportunity to speak with Douglas alone.
He bowed before her, taking her cool hand and placing a kiss on the inside of her wrist. A lover's gesture, and he saw how she shivered at his touch. "Glad tidings, my Lady Catherine," he murmured, hoping somewhere in the recesses of her mind she would be glad to take him for her husband.
Follow along next week at Ashley York's blog at https://www.ashleyyorkauthor.com/blog And if you missed Sherry's excerpt last week, you can find it at MacRae's blog at https://www.cathymacraeauthor.com
Buy Links or read for Free in Kindle Unlimited:
Amazon US: https://amzn.to/2UbuMKB
AND IF YOU'RE FOLLOWING ALONG WITH MY EXCERPT FROM ROARK AND ALYSS'S STORY, YOU'LL FIND IT ON Sherry's blog at https://www.SherryEwing.com/blog/
Here's where you can find my excerpts throughout the round.
Nov. 25: https://www.laurel-odonnell.com/blog.html
Dec. 2 https://www.marymorganauthor.com/blog
Dec. 9 https://bambilynnblog.wordpress.com/
Dec. 16 https://sherryewing.com/blog/
Dec. 23 http://ruthacasie.blogspot.com/
Dec. 30 https://judithmarshallauthor.com/blog/
Jan. 6 https://www.cathymacraeauthor.com/bits-n-bobs-author-blog
Jan. 13 http://lanemcfarland.com/blog/
Jan. 20 https://www.ashleyyorkauthor.com/blog