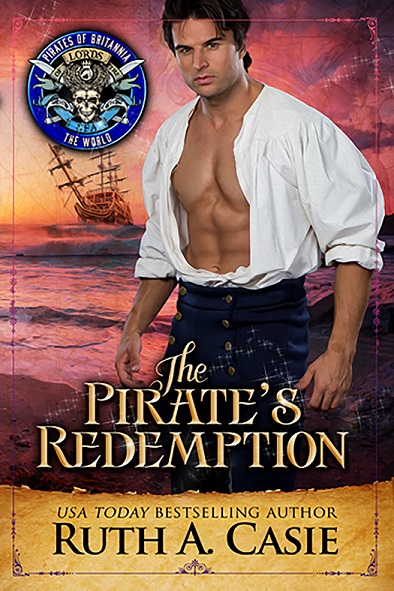 We're at the half-way point of Medieval Monday's Winter Theme, Celebration, and here we're "celebrating" that milestone with USA Today Bestselling Author Ruth A. Casie. Not only is Ruth a talented writer, she's the one who puts together the Video for each round–the one that features each book and author taking part in that round.
Not only is the the half-way point, this is the last post before Christmas.
Merry Christmas, Happy Hanukkah, and Happy Holidays. Be safe.
Now here's a peek at Ruth's exciting excerpt from The Pirate's Redemption
Blurb:
After her beloved father dies, Moira MacDougall becomes chieftain of their small clan. She is tested on every level, not only by her councilors who question her every move, but also by an exiled Englishman who raids her village under the guise of a notorious pirate, Gareth Talbot.
He wants the secret weapon Moira possesses, and will do anything to get his hands on it—including committing murder so he can give it to King Henry to prove his worthiness and be welcomed home.
Moira will follow her destiny and do whatever is necessary to protect her clan.
The real Gareth Talbot is through with love. His last romance did not end well. He suffered a broken heart and doesn't trust women.
Humiliated, Gareth goes to sea and becomes a captain for MacAlpin, the pirate king. When raids along the Scottish coast are blamed on him, he seeks revenge. Nothing less than death will do.
Moira and Gareth are on different missions but seek the same goal. Can they work together and eliminate their greatest enemy, and in the process, find the one thing they didn't know they were searching for, true love?
Buy Link: Amazon KU
Excerpt
glanced at him. His question was a small thing, but the concern made her heart flutter.
"No' at all," she said, pulling her gaze away, afraid he would see something she was not ready to admit.
He cleared his throat.
She struggled to keep from smiling at his signal. Gareth had shoulders wide enough to bear the weight of the world. Although he would never admit it, he had a habit of coughing when in awkward situations.
He squeezed her arm and returned his attention to the sun while it slipped lower in the sky. The red sky darkened until the heavens were velvety black.
For the moment, they only saw each other.
She stared overhead at the hundreds of stars above. The beauty never escaped her, and the vastness humbled her. She let out a deep sigh, her body close to Gareth's. The strain of the last week faded with the sun. Contentment floated on the air, helped along by Wesley's ale and music.
Follow along next week (December 30) for excerpt #7 here: https://www.ashleyyorkauthor.com
You'll find a review of last week's snippet here: https://www.cathymacraeauthor.com
Here's where you can find my excerpts throughout the round.
Nov. 25: https://www.laurel-odonnell.com/blog.html
Dec. 2 https://www.marymorganauthor.com/blog
Dec. 9 https://bambilynnblog.wordpress.com/
Dec. 16 https://sherryewing.com/blog/
Dec. 23 http://ruthacasie.blogspot.com/
Dec. 30 https://judithmarshallauthor.com/blog/
Jan. 6 https://www.cathymacraeauthor.com/bits-n-bobs-author-blog
Jan. 13 http://lanemcfarland.com/blog/
Jan. 20 https://www.ashleyyorkauthor.com/blog
Jan. 27 http://www.barbarabettis.com/index.php/blog/