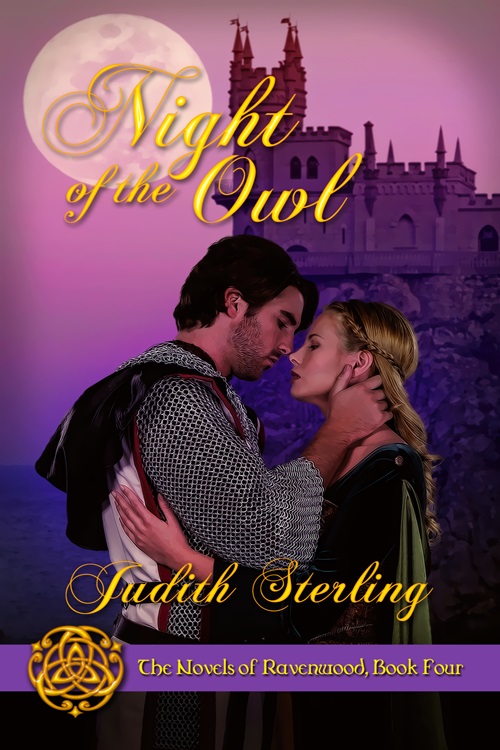 My good friend and fellow Rose–Wild Rose Press author–Judith Sterling ushers out Medieval Monday's 2019 celebrations with her exciting new book Night of the Owl. The time travel romantic adventure leads us to wonder how "far" we would go to find love.
And if you're following my excerpt series, you can find this week's installment at Judith's blog: https://judithmarshallauthor.com/blog/
Here's Night of the Owl, Book Four of the Novels of Ravenwood.
Blurb:
PhD student Ardyth Nightshade has renounced men and pursues her twentieth-century career with single-minded focus. When fate whisks her to medieval England, she meets her match in a man whose passions mirror her own. Can she sacrifice ambition for a love she never sought?
Hugh, Lord Seacrest confounds all who know him. He refuses to marry without a meeting of minds and hearts, and no lady has even approached his ideal…until Ardyth. But she's an odd one, with unique skills, shocking habits, and total conviction she needs no man. She also harbors secrets, and in the midst of rumors, plots, and murder, trust is fragile.
A woman outside of her time. A man ahead of his. They must take a leap of faith to forge a bond that will shape history.
Buy links:
Amazon https://www.amzn.com/B07YCX3R2B
Barnes and Noble https://www.barnesandnoble.com/w/night-of-the-owl-judith-sterling/1133653973
Kobo https://www.kobo.com/us/en/ebook/night-of-the-owl-1
iBooks https://books.apple.com/us/book/night-of-the-owl/id1482587240
Excerpt:
"I imagine it has." Constance looked at Robert—whose dimples deepened considerably—then back at Lady Seacrest. "So Ranulf is a younger son. Of whom?"
"Lord Harcourt, one of my late husband's oldest friends. When Ranulf came calling, I thought it only right to offer him a position here."
Robert gestured toward the musicians. "Giles has finished. 'Tis Ranulf's turn."
The goliard laid his rebec against his shoulder and lifted the bow. Lively music streamed forth.
Follow along next week on Ashley York's blog: https://www.ashleyyorkauthor.com/blog
If you'd like to catch up on last week's installment, you'll find it at Cathy MacRae's blog: https://www.cathymacraeauthor.com
Here's where you can find my excerpts throughout the round.
Nov. 25: https://www.laurel-odonnell.com/blog.html
Dec. 2 https://www.marymorganauthor.com/blog
Dec. 9 https://bambilynnblog.wordpress.com/
Dec. 16 https://sherryewing.com/blog/
Dec. 23 http://ruthacasie.blogspot.com/
Dec. 30 https://judithmarshallauthor.com/blog/
Jan. 6 https://www.cathymacraeauthor.com/bits-n-bobs-author-blog
Jan. 13 http://lanemcfarland.com/blog/
Jan. 20 https://www.ashleyyorkauthor.com/blog
Jan. 27             http://www.barbarabettis.com/index.php/blog/
And here is the video for the Winter 2019 Medieval Monday line up. It's created by one of our talent members, Ruth A. Casie