The new year is here–can you believe it? I haven't written any checks yet, so I haven't been challenged with writing the wrong year. But that time will come.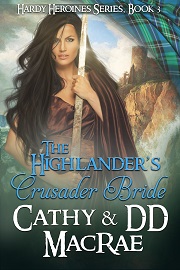 And another time is coming als0–the closing out of the Winter Medieval Monday Theme, Celebrations. Only four more weeks until we wrap up this go-round.
To Welcome the New Year and start our last month of Celebration excerpts, Cathy MacRae joins us with her and DD MacRae's wonderful new book, THE HIGHLANDER'S CRUSADER BRIDE. the book introduces the new Hardy Heroines Series.
BLURB:
Born in the Holy Land to a life of danger and adventure, Arbela MacLean is not the bride Caelen expected.)
Born in the Holy Land only a few years after the Third Crusade, half-Armenian, half-Scot Arbela MacLean is a true daughter of the desert, beautiful and untamed. Trained to be a warrior to avoid her gentle mother's fate, Arbela has honed her skills with Turkish bow and arrow, sword, and throwing darts—and dreads the day her father choses a man for her to marry.
After more than thirty years in the Holy Land, Donal MacLean, Baron of Batroun, is recalled to Scotland, the last son available to take up leadership of clan MacLean. He brings with him knights, treasure, trade—and a daughter of marriageable age.
Caelen MacKern, known as the Bull of the Highlands, is cynical about women. His first marriage formed an alliance, and he did not grieve when his spoiled, immature bride passed away. He has agreed to marry again—against his better judgement—for the men, means, and coin to recover from a devastating pestilence that all but wiped out his clan.
More than a little resentful at finding himself forced to remarry, Caelen's proposal to Donal MacLean's headstrong daughter nevertheless piques her interest. Each will receive what they want most from life—the ability to live as they please without interference from a meddling spouse. But their marriage of indifference will soon change to one of passion that neither Arbela nor Caelen could have predicted.
Buy links:
Amazon: https://www.amzn.com/dp/B0762TL89Z
Kobo: http://bit.ly/THCB_Kobo

EXCERPT:
Red-faced, Father Sachairi mumbled the words. "Ego conjungo vos in matrimonium in nomine Patris et Filii et Spiritus Sancti. Amen."
"Amen," Arbela responded, head bowed. She hoped she appeared demure—correcting a priest at one's own wedding was not something done lightly. But she kept her head bent until she could control the mirth that threatened to erupt wildly at the error.
Follow Cathy for next week's snippet on Ashley York's blog: https://www.ashleyyorkauthor.com
For a review of last week's snippet, check out http://www.laurel-odonnell.com/blog.html
My excerpt snippet for this week can be found on Cathy's blog: https://www.cathymacraeauthor.com/bits-n-bobs-author-blog
Here's where you can find my excerpts throughout the round.
Nov. 25: https://www.laurel-odonnell.com/blog.html
Dec. 2 https://www.marymorganauthor.com/blog
Dec. 9 https://bambilynnblog.wordpress.com/
Dec. 16 https://sherryewing.com/blog/
Dec. 23 http://ruthacasie.blogspot.com/
Dec. 30 https://judithmarshallauthor.com/blog/
Jan. 6 https://www.cathymacraeauthor.com/bits-n-bobs-author-blog
Jan. 13 http://lanemcfarland.com/blog/
Jan. 20 https://www.ashleyyorkauthor.com/blog
Jan. 27 http://www.barbarabettis.com/index.php/blog/
And here is the video for the Winter 2019 Medieval Monday line up. It's created by one of our talent members, Ruth A. Casie