Well, this it. The wrap-up of this Winter Medieval Monday's Theme of Celebration. Today each author features her final installment of a long excerpt from a featured novel. It hardly seems possible for the time to have go so rapidly, right? I hope you've enjoyed the samples from the wonderful books of all our very talented members. Our fearless leader, Ashley York, is planning something special for readers very soon. Watch this space!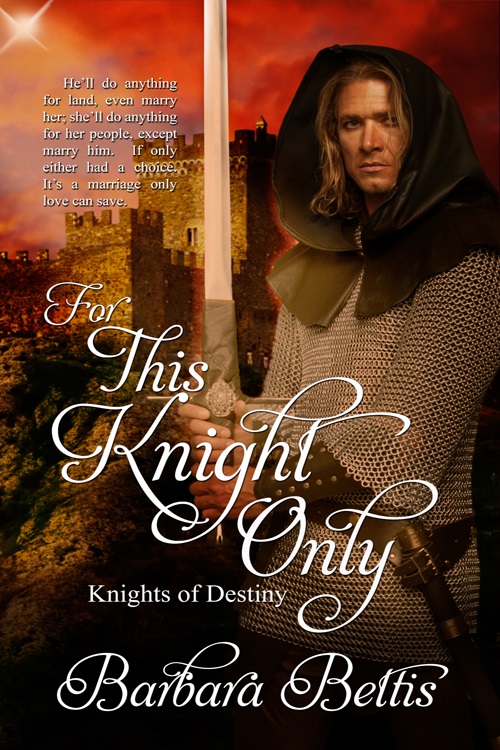 Speaking of someone special–you. That's right–readers. Thank each and every one for stopping by to visit, to read, and sometimes even to comment on these posts. And most of all, thank you for your support throughout the year for our books. I know I appreciate when you drop me a note to say what you've liked about our current theme here and what you like about my books. You're the best!
Now, for a look at Roark and Alyss's wedding. I'm sure Roark thought—FINALLY!
Blurb:
He'll do anything for land, even marry her; she'll do anything for her people, except marry him. If only either had a choice. It's a marriage only love can save.
Sir Roark will do anything to gain land, even beguile an unwilling lady into marriage. He knows she's much better off with a man to take control of her besieged castle, to say nothing of her desirable person. But it isn't long before he discovers that, although her eyes sparkle like sunlight on sea waves, her stubbornness alone could have defeated Saladin.
Lady Alyss is determined to hold her family's castle, protect her people, and preserve her freedom— until her brother's dying wish binds her to a stranger. Still, she'll allow no rugged, over-confident, appealing knight to usurp her authority, even if she must wed him. Especially since he thinks a lady's duties begin and end with directing servants. Alyss has a few surprises for her new all-too-tempting lord.
But when a common enemy threatens everything, Roark and Alyss face a startling revelation. Without love, neither land nor freedom matters.
Buy Links Amazon B&N iTunes

EXCERPT:
The only freedom Alyss really had lay in her choice of a husband—the new lord of Windom or Sir Roark. Although Sir Roark had a talent for irritating her, and no matter how she'd insulted him earlier, for some inexplicable reason she trusted him. Her trust had nothing to do with the unwelcome warmth his touch sparked, nor the unexpected breathlessness that squeezed her lungs at the sight of strong face. Certainly not.
Alyss looked Sir Roark squarely in the eyes. They held confidence, determination—and something more. An intensity, a drive. Beneath his grim stare, she vowed, lay sincerity.
She prayed she wasn't mistaken.
As if from a distance, she heard herself say, "Very well."
****
A shout of laughter made her start. Servants and men from the garrison were celebrating the wedding with ale and pasties. Fare for the evening meal. Who had ordered that? She saw Sir Roark watching her. That's who.
Her husband. And in such a fashion. In her own hall—not even on the steps of the chapel for all to see.
The ceremony was brief, cloaked in unreality. Alyss repeated what was needed, but her mind refused to focus. And when the final vows were over, she felt no different. Yet everything had changed. She was married. She had staked her life and that of everyone here on a man she knew nothing about. She prayed the decision hadn't been a mistake.
The villagers should be told, although word undoubtedly had spread. She needn't trouble announcing anything. No, that wasn't her way. She did her best to keep her people informed of any change that affected their lives.
"We will go out to the village now." She raised her voice to reach Roark, who looked up from a conversation with Sir Alain. "I will introduce you."
"I don't need you…" He stopped, grasping her intent, then inclined his head. "My thanks."
She walked past him on the way to the door. "I'm not doing this for you."
***
Where earlier snippets of the longer excerpts can be found this round.
Nov. 25: https://www.laurel-odonnell.com/blog.html
Dec. 2 https://www.marymorganauthor.com/blog
Dec. 9 https://bambilynnblog.wordpress.com/
Dec. 16 https://sherryewing.com/blog/
Dec. 23 http://ruthacasie.blogspot.com/
Dec. 30 https://judithmarshallauthor.com/blog/
Jan. 6 https://www.cathymacraeauthor.com/bits-n-bobs-author-blog
Jan. 13 http://lanemcfarland.com/blog/
Jan. 20 https://www.ashleyyorkauthor.com/blog
Jan. 27 http://www.barbarabettis.com/index.php/blog/
And here is the video for the Winter 2019 Medieval Monday line up. It's created by one of our talent members, Ruth A. Casie