I love hosting my fellow Roses (Wild Rose Press authors) and today I welcome Jean Grant. Jean is celebrating a special event–the release of the audiobook of her latest women's fiction novel, WILL RISE FROM ASHES. The book released last month but the audiobook debuted Friday, April 17.
Jean hasn't always been an advocate of audiobooks. Here. Let her tell you.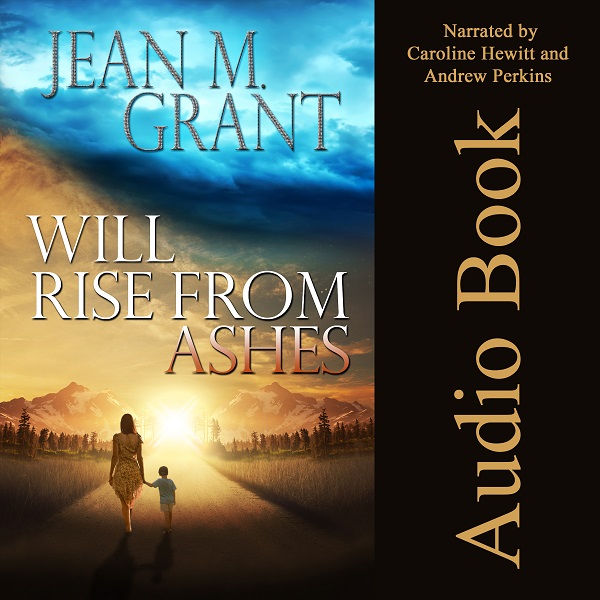 Swept away by words
It took some convincing several years ago to give audio books a go. I was only on book 5 in the Outlander series, and I kept starting and stopping that long, long book. I was never going to finish the series (of 8 books and counting, not to mention the side stories and novellas) if I continued to read at a snail's pace. For me audio was the obvious choice: I could listen in the car on my way to work and other places. I probably picked one of the best narrators (Davina Porter) to win me over. I was hooked with The Fiery Cross. Now, I listen to audio books any chance I can get. Book club? I check to see if I can get it on audio (right now, I'm listening to two books: Seneca Lake by Emily Heebner—via Audible, and The Nightingale by Kristin Hannah—via CDs from the library). I still love holding a book in my hand, of course, and will naturally read e-books, but there is something about an audio book. They whisk me off to a distant place…and give my eyes a break, as I write novels full-time, too.
Finding the right voice artists for my books has been its own process. Anything with writing and publication takes time and patience. I finally found a duo of narrators for Will Rise from Ashes via an incredible producer, Jayme Mattler. These two did a fantastic job capturing the emotions of my lead protagonists, AJ Sinclair (mother) and her son Will. It's the first time I used two narrators, but for this story was the perfect choice.
If I've not yet won you over, how about a list of reasons to listen to audio books?
Multi-tasking. Driving, work, housework, on a walk, whatever. They are great to listen to while doing other things.
The art of narration. Most producers are voice artists trained to do this for their career. Some are mind-blowingly talented.
Libraries, Audible, iTunes…they are easy to get your hands on. A few clicks, and downloaded or requested. I tend to request the CD versions from libraries or listen on Audible.
Sometimes, it's quicker than reading. I'm not a speed reader. I am slow. I can tackle larger books easily, and quickly, while listening on audio.
Give your eyes a break. Bifocals are calling my name any day now…
Dare I say, it can be better than the print book? I've had some readers struggle with the language or keeping clans or locations straight in my historical romance. They enjoyed the books more as audio. I have sometimes struggled with print, only to be wowed by the audio.
You learn interesting pronunciations and accents. Oh, that's how you say that? My historicals have some unique challenging words in Norse, Gaelic, and Scottish. The narrator does the job for you when it comes to a tough word.
Audio makes books more accessible for those with reading or vision challenges.
The nuances are still there. Some say listening is not the same as reading, but more and more have agreed they are equal. As an author, I hear the voice, the nuances, the subtleties, the fondness for certain phrases. I picture the setting in my mind. I truly am swept away by the words and narration.
Tagline: Living is more than mere survival.
Blurb:
Living is more than mere survival.
Young widow AJ Sinclair has persevered through much heartache. Has she met her match when the Yellowstone supervolcano erupts, leaving her separated from her youngest son and her brother? Tens of thousands are dead or missing in a swath of massive destruction. She and her nine-year-old autistic son, Will, embark on a risky road trip from Maine to the epicenter to find her family. She can't lose another loved one.
Along the way, they meet Reid Gregory, who travels his own road to perdition looking for his sister. Drawn together by AJ's fear of driving and Reid's military and local expertise, their journey to Colorado is fraught with the chaotic aftermath of the eruption. AJ's anxiety and faith in humanity are put to the test as she heals her past, accepts her family's present, and embraces uncertainty as Will and Reid show her a world she had almost forgotten.
Even from far away, I recognized the man's plaid long-sleeved shirt and the large backpack, but now he was walking alongside a bike on his approach.
Excerpt: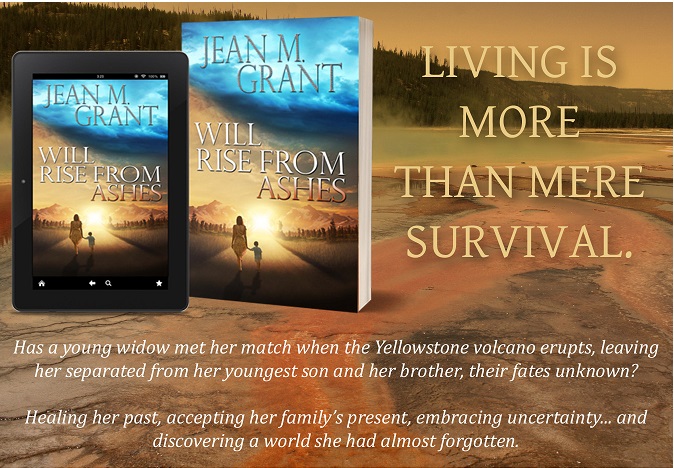 "Hey, look! It's that guy you drove past this morning!"
I shuddered inwardly. Well, karma just bit me in the butt.
"How did he catch up with us?" Motherly instinct took over as I rose, my legs wobbly. "Will, stay there. Here, take this," I said, handing him the tire iron.
"We already tried that, Mom."
"Not for that, Will."
He scratched his brown hair, which was overdue for a cut, and looked at me, confusion wrinkling his brow.
"Be my wizard, Will. It's your sword."
"Wizards have wands."
"Will…"
The circuit connected. "Oh…yes, Mom, I'll protect you!"
I smiled faintly. "Thank you, honey." I didn't want to explain further that it was me protecting him. I didn't want to say that if something happened, to run and hide in the woods. Because he would run and hide. Then what? Who would come help?
I shoved my hand into my front jeans pocket to nestle my fingertips around the pocket knife I had given Harrison for our wedding anniversary. The man slowed his bicycle as he drew nearer. He gave me an understated, yet significant, nod. The nod of understanding, of kindness. I didn't buy it.
"Hello, again," he said.
Ouch.
Audible ~ Amazon ~ Barnes and Noble ~ iTunes ~ Kobo ~ Google books
Bio: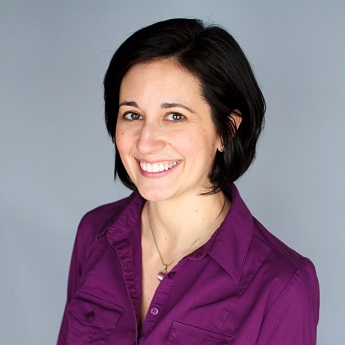 Jean's background is in science and she draws from her interests in history, nature, and her family for inspiration. She writes historical and contemporary romances and women's fiction. She also writes articles for family-oriented travel magazines and websites. When she's not writing or chasing children, she enjoys tending to her flower gardens, hiking, and doing just about anything in the outdoors.
Social Media links:
Website ~ Twitter ~ Facebook ~ Goodreads ~ Bookbub ~ Amazon Author Page ~ The Wild Rose Press ~ Instagram