When I saw our new theme involved Nature in some way, I knew immediately which book I would feature. My latest, a novella, is A WINTER KNIGHT. The title is a dead giveaway–nature is a character in the way it affects the plot and the hero and heroine, Sir Nicholas and Lady Clare.
Oh, and I have some exciting news to share about the book. I learned last week that A WINTER KNIGHT is a finalist in this year's HOLT Medallion Contest in the category of Romance Novella. It's up against some pretty stiff competition, but I'm truly honored to be one of the finalists.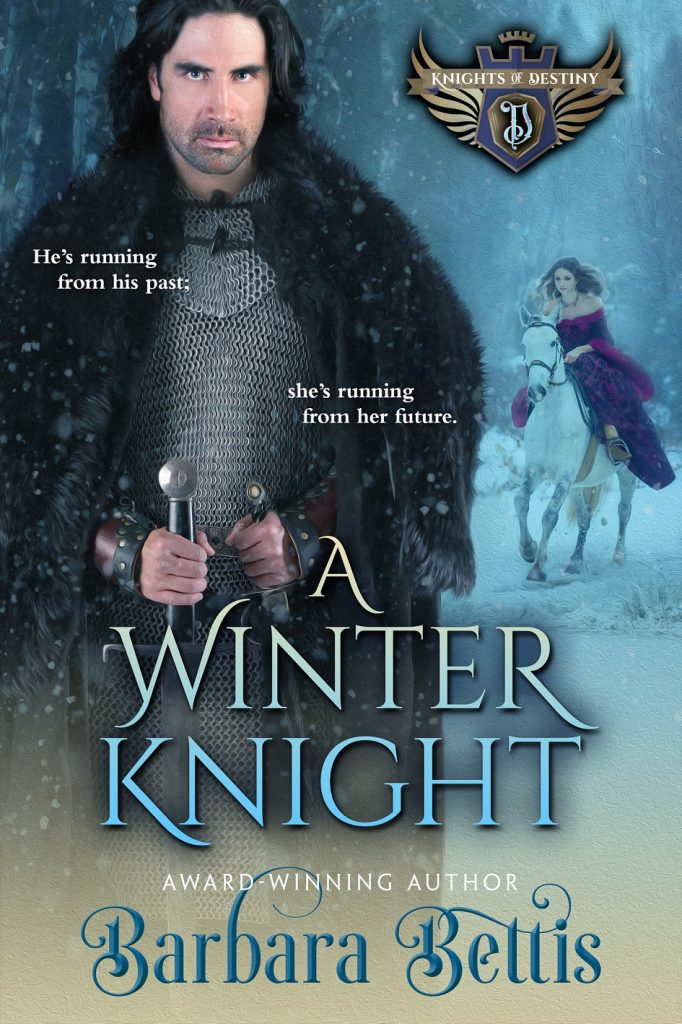 Now, back to the fun at hand. As you know from earlier Medieval Monday blogs, each author chooses a long excerpt from her book, then divides it into snippets that we feature on each other's blogs each week. The first and last weeks are hosted by the author with longer portions of the excerpt. At the bottom of this blog is a list of all the authors' blog addresses, so you can pop over to visit other excerpts as well.
Meanwhile, stay safe!!
Log Line: He's running from his past; she's running from her future. But on a snowy winter night, they find each other and the surprising gift of love.

Blurb:

Sir Nicholas has given up on marriage. These days he's content to captain his friend's troops and avoid entanglements—until one winter night when he rescues a half-frozen woman from a snowstorm. Her irrepressible spirit and kindness to others reminds him that all ladies aren't like his former intended, who wed his brother while Nick was on crusade. But he can't open his heart to Lady Clare. She's bound to another, and Nick won't forfeit his honor. Even if she were free, he has nothing to offer but love, and this lady deserves everything.

Lady Clare's dying grandfather has arranged her betrothal, but the arrival of the man she's to wed sends her fleeing into a snowstorm. Injured when her horse stumbles, she's rescued by a mysterious knight. She recovers at his run-down manor, safe at last—until her betrothed tracks her down two days before Christmas. Trapped at home with the wedding imminent, she longs for the winter knight she's come to love.

Only a miracle can bring Clare and Nick together. But at Christmas, anything is possible
Buy Links:
AMAZON: https://amzn.to/356xovq
KOBO : https://www.kobo.com/us/en/ebook/a-winter-knight

Excerpt:

The door to the great hall banged open, and a short, snow-covered figure blew in on an icy gust.
A call of "close the door, ye want-wyt" rose from a clutch of soldiers huddled around the fire.

Sir Nicholas de Quency looked up from a late meal of warm stew as the stable lad, Thomas, trotted across the floor, leaving a trail of melting flakes in his wake. A frown crumpled the youth's face.

"Sir," he called, "we found a horse wanderin' outside th' gates. You should come look."

"Devil take it, I've just managed to thaw the ice from my hands. I have faith you can dry the animal and see it gets hay, though I'd like to know what idiote let it loose in this weather."

"Looks to be no one did, sir. That is, they did, but not a' purpose. There's packs on th' saddle and 'tis…'tis a lady's saddle, sir, what looks like. Could be someone's in trouble."

Nick blew out a sigh and braced his hands on the table. The boy must be mistaken. Weren't any ladies in this part of the world, and that's what he liked about it. Lord Roark knew right well what Nicholas didn't need, which was why his friend had sent him to check on this isolated manor belonging to Windom.

To see what happens next, visit Kelly Heckart's blog: https://kelleysrealm.blogspot.com/
Kelly Heckart: https://kelleysrealm.blogspot.com/
Mary Morgan: https://www.marymorganauthor.com/blog
Bambi Lynn : https://bambilynnblog.wordpress.com
Sherry Ewing: https://www.SherryEwing.com/blog
Ruth A Casie: http://ruthacasie.blogspot.co.uk
Judith Sterling: https://judithmarshallauthor.com/blog/
Cathy MacRae: https://www.cathymacraeauthor.com/bits-n-bobs-author-blog
Jenna Jaxon': http://jennajaxon.wordpress.com
Ashley York: https://www.ashleyyorkauthor.com/blog