I'm honored to be the first to feature an excerpt from our newest member of the Medieval Monday family, Kelley Heckart. Kelly is sharing an excerpt from White Rose of Avalon, a historical fantasy.
Blurb: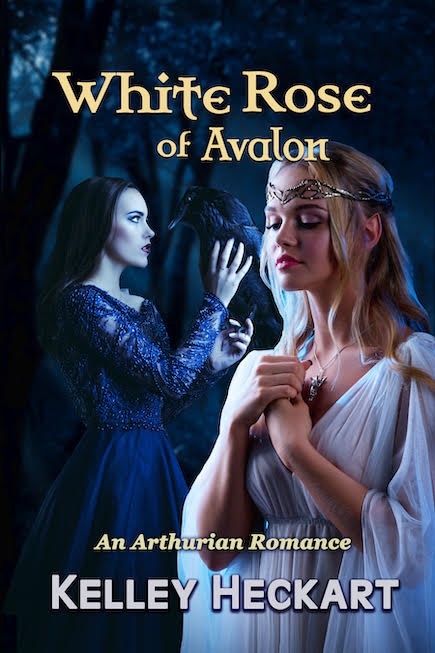 Do you like captivating, passionate historical fantasy featuring King Arthur, Gwenhwyfar, Merlin, Nimue, Morgaine, and Lancelot? Inspired by The Mists of Avalon, this sensual retelling of the Arthurian romances brings these legendary characters to life.
Destiny cannot be altered.
With Britannia falling to the Saxon hordes, Morgaine, Queen of the Faeries, has no choice but to make a pact with the Christian monks. She promises to give them a High King who will unite the Britons against the Saxons if he takes a queen from the faery realm. Morgaine hopes this will restore the Goddess faith and return Avalon to its rightful place. She sends Lancelot to guard the future High King, but when a love potion falls into the wrong hands, all seems lost.
Gwenhwyfar is the only hope for the future, but betrayal, revenge, and forbidden love surround her, all of which could send both Britannia and Avalon into ruins.
Buy links:
Amazon Kindle: https://www.amazon.com/dp/B084S4QC1F
Amazon Paperback: https://www.amazon.com/dp/B0858T5VJG?ref_=pe_3052080_397514860
Also available in KU
Excerpt:
"Morgaine!" Gwenhwyfar approached her, carrying herself with grace.
Morgaine kissed the maiden on the cheek. "My, how you have grown since I last saw you." She narrowed her gaze. "Where are your wings?"
"I have learned to hide them." Gwenhwyfar smiled, her eyes sparkling.
Check out my next snippet on Ashley's blog May 18 https://www.ashleyyorkauthor.com/blog

Medieval Monday Authors  and where to find them
Kelly Heckart: https://kelleysrealm.blogspot.com/
Mary Morgan: https://www.marymorganauthor.com/blog
Bambi Lynn : https://bambilynnblog.wordpress.com
Sherry Ewing: https://www.SherryEwing.com/blog
Ruth A Casie: http://ruthacasie.blogspot.co.uk
Judith Sterling: https://judithmarshallauthor.com/blog/
Cathy MacRae: https://www.cathymacraeauthor.com/bits-n-bobs-author-blog
Jenna Jaxon': http://jennajaxon.wordpress.com
Ashley York: https://www.ashleyyorkauthor.com/blog