I'm so happy to welcome fellow Rose (The Wild Rose Press) as well as Medieval Monday colleague Mary Morgan to the Great Hall today with her award-winning book To Weave A Highland Tapestry, A Tale from the Order of the Dragon Knights.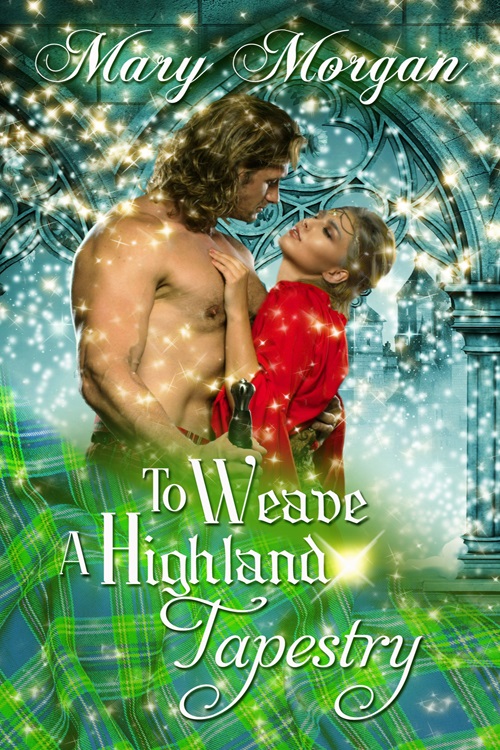 Tagline:
Do they dare unravel the past for a future of love?
Blurb:
Patrick MacFhearguis, hardened by battles won and lost, desires what he can never have—peace within his heart and soul. Yet, the ever-meddling Fae weave a new journey for him to conquer—a task this highlander is determined to resist.
When skilled weaver, Gwen Hywel, is commissioned to create a tapestry for the MacFhearguis clan, she embraces the assignment. While seeking out ideas, she finds herself clutching the one thread that can alter the tapestry of her life and heart.
A man conflicted by past deeds. A woman with no family of her own. Is it possible for love to unravel an ancient past, in order to claim two badly scarred hearts? Or will the light of hope be doused forever?
Buy Links:
AMAZON | BARNES & NOBLE | APPLEBOOKS | BOOK PAGE
EXCERPT:
Giving her a wide yawn, the animal proceeded to stretch out on the ground, showing Gwen there was nothing wrong with him.

"Ah. It appears that having only three legs does not hamper you. Were you born with this condition? Or perhaps a battle over a bone with another dog? An altercation with a cart?"
Lowering her head, Gwen blew out a frustrated breath. "Patrick told me the year is twelve hundred and nine. When those horrid men tried to kidnap and take me to King John—a king who ruled in the thirteenth century—I assumed they were the demented individuals, not me. I'm having an awful time digesting this new information, even though I recall Meggie mentioning a Patrick MacFhearguis."
The dog gave a low bark, and Gwen raised her head. "Is he a good man? Do you consider him a friend?" She narrowed her eyes and studied the animal, but he lowered his head back on his outstretched legs.
Follow along next week on Ashley York's blog here: https://www.ashleyyorkauthor.com/blog And catch up on last week's installment here: https://www.cathymacraeauthor.com/bits-n-bobs-author-blog
Where to find all Medieval Monday authors:
Kelly Heckart: https://kelleysrealm.blogspot.com/
Mary Morgan: https://www.marymorganauthor.com/blog
Bambi Lynn : https://bambilynnblog.wordpress.com
Sherry Ewing: https://www.SherryEwing.com/blog
Ruth A Casie: http://ruthacasie.blogspot.co.uk
Judith Sterling: https://judithmarshallauthor.com/blog/
Cathy MacRae: https://www.cathymacraeauthor.com/bits-n-bobs-author-blog
Jenna Jaxon': http://jennajaxon.wordpress.com
Ashley York: https://www.ashleyyorkauthor.com/blog