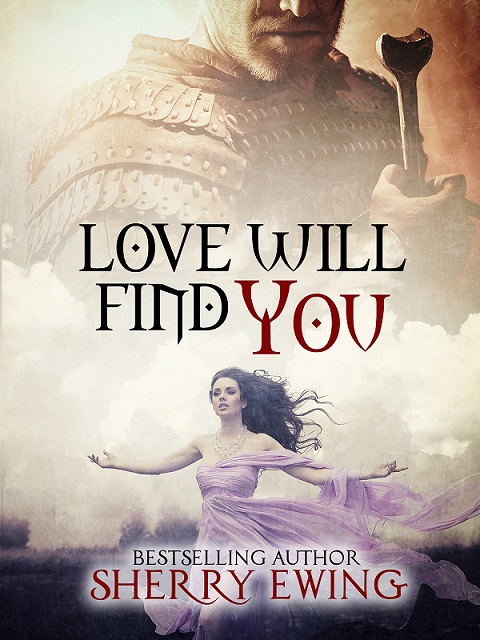 Our Nature Theme continues on Medieval Monday, and I'm excited to welcome best-selling author Sherry Ewing, with her latest time travel romance, Love Will Find You. It is Book Four in her popular Knights of Berwyck (A Quest Through Time) series. Love Will Find You was released May 19.
Let's take a look.
Blurb:
Sometimes a moment is all we have…
Ella Fitzpatrick is a woman with a secret. As she comes and goes from Berwyck Castle, seeking refuge within its gates, she yearns to be reunited with the one for whom she crossed time from the twenty-first century. She has lived another lifetime in the twelfth century waiting for the date of their reunion and it is almost upon her. But how could she have known the man she believes she loves is not the person she needs?
Killian of Clan MacLaren has been infatuated with Ella for many a year but has guarded his heart, knowing her affection lies with another. When Ella must flee Berwyck, Killian vows to escort her to her encounter with destiny. But passion flares between them and there is no doubt the bond they have is far greater than either of them expected.
Their time together is running out. Killian has a decision to make that might give him and Ella a future together. If you could change someone's past, would you seize the moment?
Buy Links:
Amazon US: https://amzn.to/3cixJPC
Apple Books: https://apple.co/3cjFMvq
Barnes & Noble: http://bit.ly/3crq6pU
Kobo: http://bit.ly/2PB7Dh9
Excerpt:
"Ella?"
Her name as it passed his lips was like a promise to her ears. A promise he would keep her safe. A promise he would keep his vow. A promise of something more, if she would but forget everything she had fought so hard to hold on to all these years. It had been so long since she had seen the man she crossed time for. Could she even remember every detail of his face? His memory had, for the most part, become just a blur in her mind, and yet her heart still cried out for him. Why? 'Twould be so easy to forget aught else but Killian. And yet, Henry had been the reason she was in twelfth-century England in the first place, and the only reason she remained.
Did you miss week four? Find it on Cathy MacRae's blog here: https://www.cathymacraeauthor.com/bits-n-bobs-author-blog
Join Sherry for next week for another excerpt on Ashley York's blog here: https://www.ashleyyorkauthor.com/blog

Where to find all Medieval Monday authors:
Kelly Heckart: https://kelleysrealm.blogspot.com/
Bambi Lynn : https://bambilynnblog.wordpress.com
Mary Morgan: https://www.marymorganauthor.com/blog
Sherry Ewing: https://www.SherryEwing.com/blog
Ruth A Casie: http://ruthacasie.blogspot.co.uk
Judith Sterling: https://judithmarshallauthor.com/blog/
Cathy MacRae: https://www.cathymacraeauthor.com/bits-n-bobs-author-blog
Jenna Jaxon': http://jennajaxon.wordpress.com
Ashley York: https://www.ashleyyorkauthor.com/blog