Please give an enthusiastic welcome to USA Today bestselling author Ruth A. Casie. So glad you're here today, Ruth. I just love your cover, as well as the book. This series is so good ! Let's take a peek.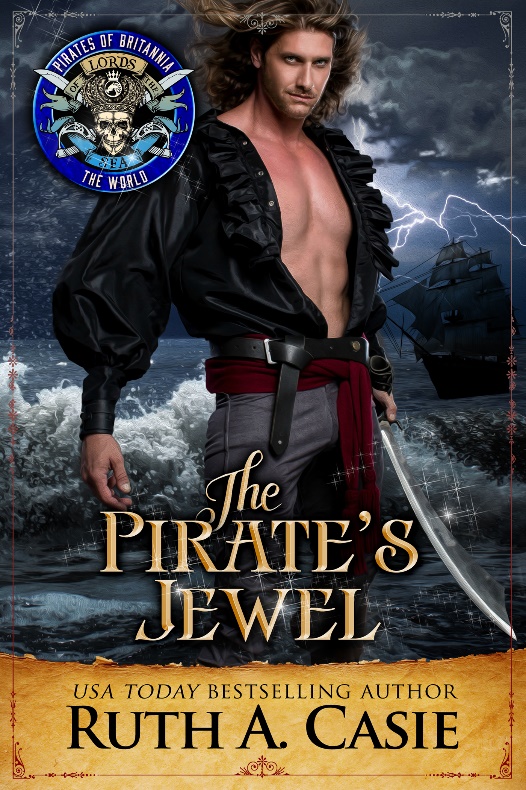 (You can check out today's excerpt from my A Winter Knight over at Ruth's blog: http://ruthacasie.blogspot.com)
BLURB:
Deception and family honor are at stake – so is her heart.
Wesley Reynolds will do anything to avenge his family's banishment from Dundhragon Castle even throw in with the notorious pirate, MacAlpin. His plan, ruin Lord Ewan's trading network. He has a more devious plan for his father's 'best friend,' the man who abandoned them at the eleventh hour. He'll ruin the man's most precious jewel, his daughter Darla. Wesley's so close to ruining the trade network and succeeding he can almost taste it, but revenge is not nearly as sweet as Darla's kisses.
Darla Maxwell, beloved by her parents has no prospects of marriage. Her father and Lord Ewan search to find her the right husband. Darla's special gifts are frightening to many. She has visions that often come true. The murky image of a man haunts her, she's sure it's Lord Ewan's soon-to-be son-in-law, but the vision morphs when she meets Wesley. The meaning couldn't be any clearer to her, her destiny lies with Wesley.
When revelations surface indicating Wesley has been deceived and his revenge misplaced. Will he find the truth of what really happened to his family in time to stop the pirates? Will Darla ever forgive him? Will he ever forgive himself?
EXCERPT:
Water that soaked through her makeshift canopy gathered above her and rained down on her, adding to her misery. She lifted her skirt, tucked her mantle close, but the water wicked through her clothes. Soaked and tired to the bone, she gave up trying to keep dry. Drained of any warmth, she shivered and waited for her ordeal to end.
Riding up and down the swelling sea, the rise and fall of the ship continued. The limited air in her space soured. Woozy, she needed fresh air but was trapped with no way out. With her head on her knees, she closed her eyes and prayed for the journey to end.
Buy Link: https://www.amazon.com/dp/B07M81Y7HM
Did you miss excerpt five? Find it on Cathy's blog https://www.cathymacraeauthor.com/bits-n-bobs-author-blog
Join Ruth next week for another excerpt on Ashley York's blog https://www.ashleyyorkauthor.com/blog

Where to find all Medieval Monday authors:
Kelly Heckart: https://kelleysrealm.blogspot.com/
Bambi Lynn : https://bambilynnblog.wordpress.com
Mary Morgan: https://www.marymorganauthor.com/blog
Sherry Ewing: https://www.SherryEwing.com/blog
Ruth A Casie: http://ruthacasie.blogspot.co.uk
Judith Sterling: https://judithmarshallauthor.com/blog/
Cathy MacRae: https://www.cathymacraeauthor.com/bits-n-bobs-author-blog
Jenna Jaxon': http://jennajaxon.wordpress.com
Ashley York: https://www.ashleyyorkauthor.com/blog