Please give an enthusiastic welcome to my friend and fellow Rose from The Wild Rose Press, Judith Sterling. Judith is bringing a snippet from Night of the Owl, Book Four of her popular series, The Novels of Ravenwood.
Blurb: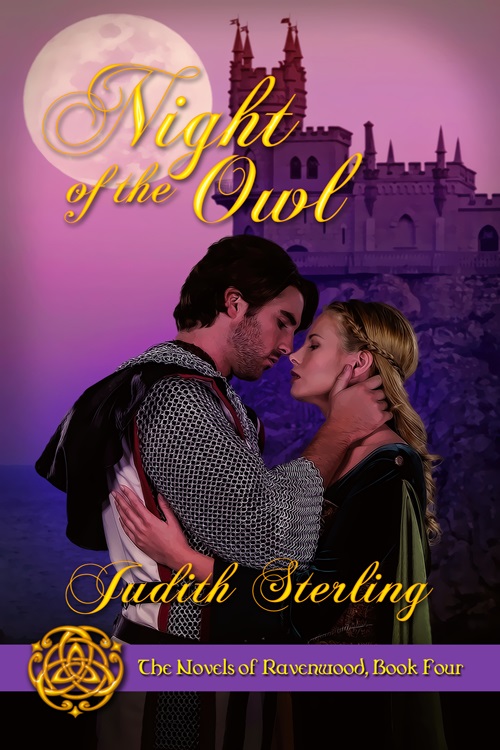 True love transcends time.
PhD student Ardyth Nightshade has renounced men and pursues her twentieth-century career with single-minded focus. When fate whisks her to medieval England, she meets her match in a man whose passions mirror her own. Can she sacrifice ambition for a love she never sought?
Hugh, Lord Seacrest confounds all who know him. He refuses to marry without a meeting of minds and hearts, and no lady has even approached his ideal…until Ardyth. But she's an odd one, with unique skills, shocking habits, and total conviction she needs no man. She also harbors secrets, and in the midst of rumors, plots, and murder, trust is fragile.
A woman outside of her time. A man ahead of his. They must take a leap of faith to forge a bond that will shape history.
Buy links:
Amazon https://www.amzn.com/B07YCX3R2B
Amazon UK https://www.amazon.co.uk/Night-Owl-Novels-Ravenwood-Book-ebook/dp/B07YCX3R2B
Barnes and Noble https://www.barnesandnoble.com/w/night-of-the-owl-judith-sterling/1133653973
Apple Books https://books.apple.com/us/book/night-of-the-owl/id1482587240
Kobo https://www.kobo.com/us/en/ebook/night-of-the-owl-1
EXCERPT:
The sparkling water accompanied their meal with soothing gurgles and murmurs. Birdsong added harmony, and Hugh basked in a warm and radiant peace he hadn't felt for quite some time. All his cares were back at Seacrest. Here and now, in this place, he was free.
Follow along next week on Ashley's blog: https://www.ashleyyorkauthor.com/blog
(You can check out today's excerpt from my A Winter Knight over at Judith's blog: https://judithmarshallauthor.com/blog/
Where to find all Medieval Monday authors:
Kelly Heckart: https://kelleysrealm.blogspot.com/
Bambi Lynn : https://bambilynnblog.wordpress.com
Mary Morgan: https://www.marymorganauthor.com/blog
Sherry Ewing: https://www.SherryEwing.com/blog
Ruth A Casie: http://ruthacasie.blogspot.co.uk
Judith Sterling: https://judithmarshallauthor.com/blog/
Cathy MacRae: https://www.cathymacraeauthor.com/bits-n-bobs-author-blog
Jenna Jaxon': http://jennajaxon.wordpress.com
Ashley York: https://www.ashleyyorkauthor.com/blog