The talented Cathy MacRae joins us on Medieval Monday today, with a peek at her and DD MacCrae's recently released, The Prince's Highland Bride. It's Book 6 in her highly popular Hardy Heroines Series.
You can find my latest snippet from A Winter Knight at Cathy's blog: https://www.cathymacraeauthor.com/bits-n-bobs-author-blog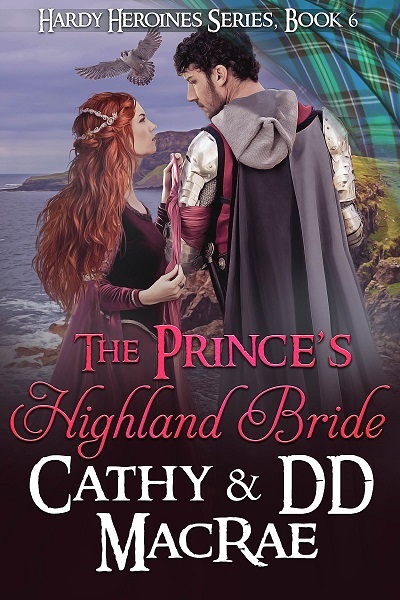 BLURB:
Free of court intrigue, Phillipe seeks a new start in life. Falling in love was not in his plans. Until he met Maggie MacLaren.
Phillipe de Poitiers, a prince of Antioch, finds himself a breath away from wrongful execution. Risking everything, he leaves behind his crown, his family, his country—and a body sworn to be his by the Bishop, himself.
Free of court intrigue and drawn to Scotland by memories of a woman who once possessed his heart, Phillipe sells his sword to pay for his travels and accepts the task of guarding the daughter of Laird MacLaren.
When Maggie MacLaren's abusive marriage fails, she wants nothing more than to retire to her childhood home on the banks of Loch Lomond. Trouble follows her, putting her clan in danger, and she travels to the Isle of Hola, placing her safety in the hands of a mysterious mercenary with a haunted smile and a kind heart.
As Maggie and Phillipe struggle with their pasts, love blooms. But when a pirate's treasure offers a seductive lure, will it free them—or prove the downfall of all they hold dear
Buy links:
Amazon: https://www.amzn.com/dp/B086Z153VH
EXCERPT:
Phillipe grew still. A muscle twitched in his jaw as if he wrestled with his next words. "I will speak with Baron MacLean and his son. 'Tis certes something can be arranged. May I speak for ye?"
Maggie studied the man before her. She trusted him to arrange good terms with the baron on her behalf, but something made her hesitate.
Three children ran excitedly up the trail. "Freya! Freya!"
The mix of languages from the children amused Maggie. She'd been addressed as Lady most of her life, but the Norse equivalent fell strange, though not unpleasant on her ears. She laughed as the three bairns danced about her.
"Freya, Ma says to bring ye home. We'll have a feast this e'en in yer honor!"
~~~~~~~~~~~~~~~~~~~~~~~~~~~
Join me next week on Ashley York's blog: https://www.ashleyyorkauthor.com/blog
And for a look at last week's snippet visit Kelley's blog: https://kelleysrealm.blogspot.com/
Where to find all Medieval Monday authors:
Kelly Heckart: https://kelleysrealm.blogspot.com/
Bambi Lynn : https://bambilynnblog.wordpress.com
Mary Morgan: https://www.marymorganauthor.com/blog
Sherry Ewing: https://www.SherryEwing.com/blog
Ruth A Casie: http://ruthacasie.blogspot.co.uk
Judith Sterling: https://judithmarshallauthor.com/blog/
Cathy MacRae: https://www.cathymacraeauthor.com/bits-n-bobs-author-blog
Jenna Jaxon': http://jennajaxon.wordpress.com
Ashley York: https://www.ashleyyorkauthor.com/blog