Today's guest is my friend and popular author, Jenna Jaxon. Jenna's medieval tales are exciting and tantalizing and guaranteed to sweep you away to the dangerous world of the Middle Ages.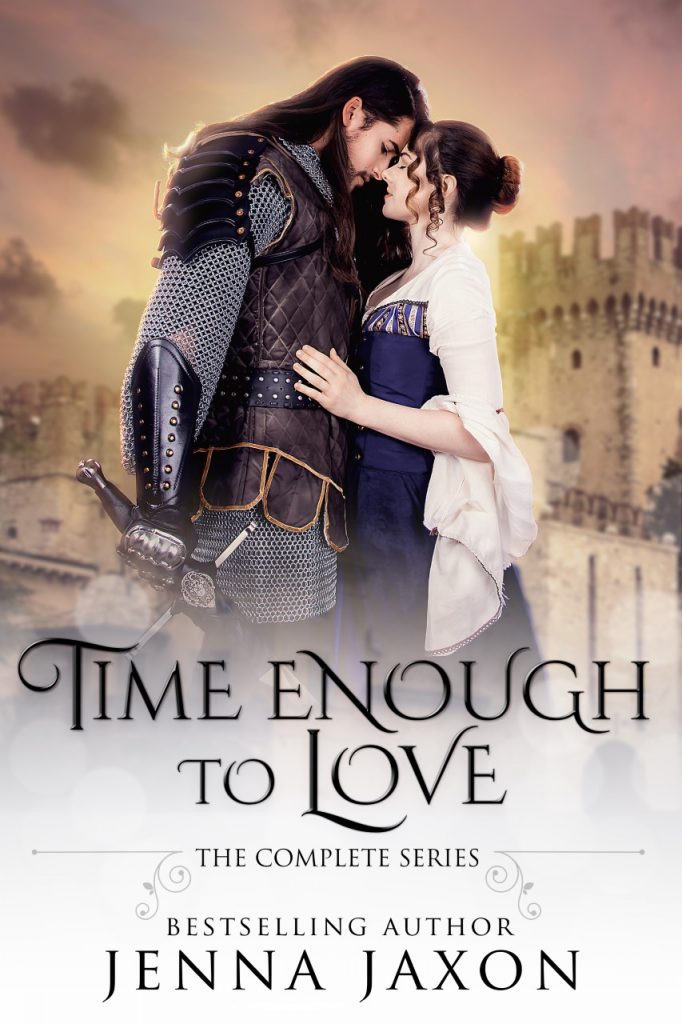 BLURB:
When Lady Alyse de Courcy is betrothed to Sir Geoffrey Longford, she has no choice but
to make the best of a bad bargain. The hulking knight is far from her ideal man, and although he
does possess some wit and charm, he is no match for the sinfully sensual man she secretly
admires, Thomas, Earl of Braeton, her betrothed's best friend.
From the first, Sir Geoffrey finds himself smitten by Lady Alyse, and, despite her infatuation
with his friend, vows to win her love. When Geoffrey puts his mind to wooing Alyse, he is
delighted to find her succumbing to his seduction. But when cruel circumstances separate them,
Geoffrey must watch helplessly as Thomas steps in to protect Alyse—and falls in love with her
himself.
As the three courtiers accompany Princess Joanna to her wedding in Spain, they run headlong
into the Black Plague. With her world plunged into chaos, Alyse struggles with her feelings for
both the men she loves. But which love will survive?
EXCERPT:
His mouth dropped open, and he could only stare at her in the dying firelight.
"Oh, Alyse, my love," he gently gathered her into his arms, "were you afraid to give me this news because we are not yet properly wed? But it makes no difference, sweetheart, as we will be married long ere the babe arrives."
Alyse shook her head as it lay against his chest. "Nay, Geoffrey, 'tis not that that troubles me."
"Sweetheart, did you think I would not be pleased that you are to bear my child?"
Weariness pressed her down. "Do you remember when we danced at the princess's banquet in Bordeaux?"
"Aye, my love."
"That day I started my courses–and that was the last time I had them, in August." 
For the next part of the excerpt, follow me over to Cathy MacRae's blog next week.
And to review last week's installment, see  Sherry Ewing's blog.
VISIT MY EXCERPT INSTALLMENTS FOR A WINTER KNIGHT ON JENNA'S BLOG: http://jennajaxon.wordpress.com
Where to find all Medieval Monday authors:
Kelly Heckart: https://kelleysrealm.blogspot.com/
Bambi Lynn : https://bambilynnblog.wordpress.com
Mary Morgan: https://www.marymorganauthor.com/blog
Sherry Ewing: https://www.SherryEwing.com/blog
Ruth A Casie: http://ruthacasie.blogspot.co.uk
Judith Sterling: https://judithmarshallauthor.com/blog/
Cathy MacRae: https://www.cathymacraeauthor.com/bits-n-bobs-author-blog
Jenna Jaxon': http://jennajaxon.wordpress.com
Ashley York: https://www.ashleyyorkauthor.com/blog