Incredible to realize that our Spring 2020 Blog Exchanges are nearly finished! The weeks just fly by. But it's true. And as my last guest to round out our Nature Theme, I'm so happy to welcome my friend and talented story teller, Ashley York. Ashley's excerpt is from her latest, Eyes of the Seer, Book Two in her popular Warrior Kings Series .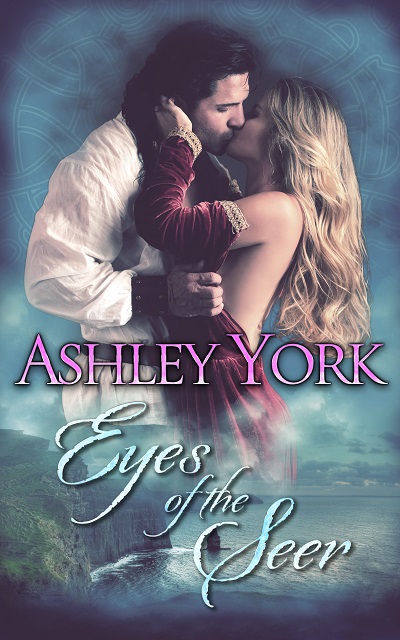 And by the way, you can find my penultimate snippet at Ashley's blog: https://www.ashleyyorkauthor.com/blog
Now for EYES OF THE SEER
BLURB:
He wishes to prove himself…
Marcán of Clonascra bears the bloodline of Brian Boru and his prowess as a warrior has earned him great respect from everyone but Astrid, the woman who holds his heart. Between her mother's condemning him as a pagan Seer and Astrid's total disinterest, he finds solace as the king's protector and confidant.
She is desperate to escape…
Astrid is more than ready to wed but her brother, the king, is in no hurry to see her married, so she decides to see to her own match-making. The man she approaches quickly reveals his lack of honor, but her overbearing mother pushes her to wed him anyway. When Astrid discovers Marcán's love for her, will it be too late to have the happiness she'd always dreamed of?
GRAB A COPY HERE
EXCERPT:
She was asking for his forgiveness. That was all. Her sincerity was obvious, and he knew he was damned. This might be the hardest trial he had ever faced. He could not refuse her, but he tried one last time to avoid the inevitable.
"I believe ye, and I offer ye my forgiveness with nothing more required of ye."
Her eyes rounded. "Please."
That simple request was his undoing. "Then let us see to this bath."

And for the last bit of this excerpt, come on over to my blog next week. See  you there
To review last week's snippet, visit Cathy MacRae's blog
Where to find all Medieval Monday authors:
Kelly Heckart: https://kelleysrealm.blogspot.com/
Bambi Lynn : https://bambilynnblog.wordpress.com
Mary Morgan: https://www.marymorganauthor.com/blog
Sherry Ewing: https://www.SherryEwing.com/blog
Ruth A Casie: http://ruthacasie.blogspot.co.uk
Judith Sterling: https://judithmarshallauthor.com/blog/
Cathy MacRae: https://www.cathymacraeauthor.com/bits-n-bobs-author-blog
Jenna Jaxon': http://jennajaxon.wordpress.com
Ashley York: https://www.ashleyyorkauthor.com/blog