It's summer and what better way to celebrate than to enjoy a refreshing scoop or two of cooling ice cream? The Wild Rose Press is featuring a series built around the concept of romance and summer and— ice cream, of course.
D.V. Stone's newest book is a heartwarming tale of a widow and widower who unexpectedly find each other during a lakeside getaway. Rainbow Sprinkles casts the hopeful colors of the rainbow on their second time around romance.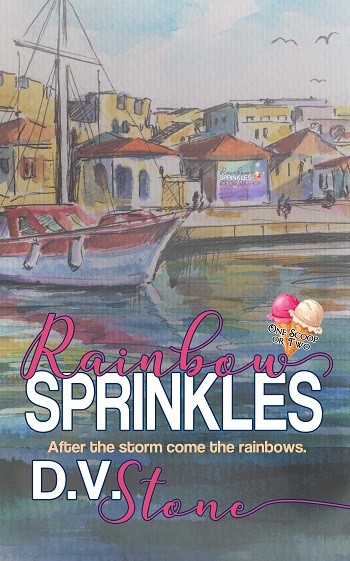 When she'd not writing her HEA stories, D.V. has two delightful blogs. Catch her blog centered around camping, one of her joys, in Welcome to the Campfire. She also shares website with fellow authors and friends in a second blog, Peek Through the Window.
Now let's take a look at Rainbow Sprinkles.
Blurb
Retired and widowed Gloriana Jones is forging on with the plans she and her late husband dreamed of—bringing joy and happiness, one ice cream cone at a time, to Lake Unami. But bad weather is drowning her dream. A trip to Upstate NY is bittersweet for Nathan James. He is excited to see his first granddaughter but without his wife he's lonely. When his car breaks down, he heads to the only light he can see, an ice cream shop. With aid from a heavenly source, electricity sparks, but will the two weather the summer storms and find love a second time? Or will their hopes and dreams melt away?
Excerpt
"Do you mind if I wait until the tow truck gets here?" He plucked the wet shirt away from his chest with the long fingers of one tanned hand. "It must be electrical, even the radio stopped working."
"No, you're welcome to hang around as long as you need." Gloriana riffled through a cardboard box under the counter, pulled out an extra-large t-shirt, and tossed it to him. "Here you go. The restroom is through there."
Mr. Gorgeous beamed a perfect toothy smile. "Thanks. I'll be right back."
When he disappeared into the hallway, and the door clicked shut, Gloriana fanned her face. What the hot fudge was wrong with her? "Coffee. Make coffee."
Bio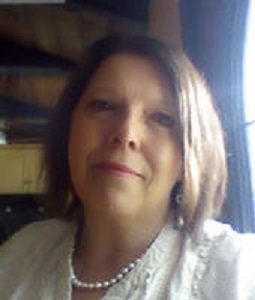 Hi, my name is D. V. Stone. I am a multi-genre author of two independently published books. Felice, Shield-Mates of Dar is a fantasy romance. Agent Sam Carter and the Mystery at Branch Lake is a mid-grade paranormal. Recently, Rock House Grill was released by Wild Rose Press. I also host Welcome to the Campfire and A Peek Through the Window, both weekly blogs. Here's a little more about me.
Amazon Barnes & Noble iBook's Google Books
Born in Brooklyn, D.V. Stone has moved around a bit and even lived for a time on a dairy farm in Minnesota before moving back east. Throughout her wandering, she always considered herself a Jersey Girl. She met and married the love of her life, Pete—a lifelong Jersey Man, and moved this time to Sussex County. They live with Hali, a mixed breed from the local shelter and their cat Baby.
You can find out more about D. V. by following her on Social Media
Website Amazon Author Page Facebook Twitter Instagram
Pinterest Bookbub Goodreads Newsletter
Blogs