Welcome, everyone, to Medieval Monday. Today we launch the next round of excerpts, with a slightly different format. Our theme of Nature will feature each author posting snippets from her own book.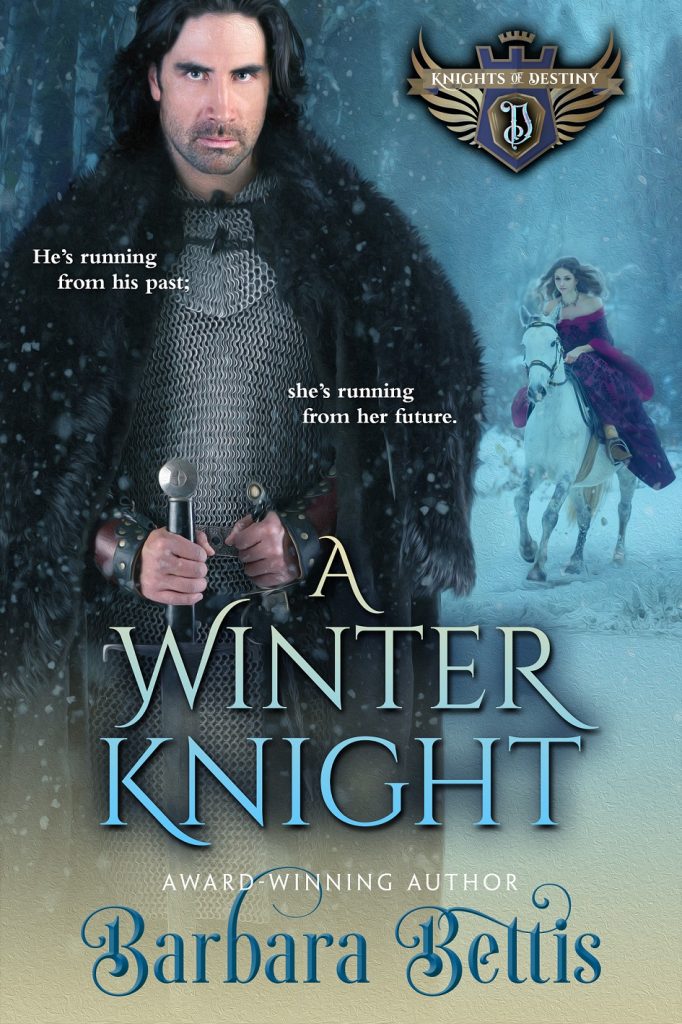 For easy access to each of the authors, visit the Medieval Romance Lovers Facebook page. Authors will post their blog links there. You can also find us on Twitter at #MedMonFall20 .
I can't wait to share a part of my Christmas novella A Winter Knight. I say it's a 'Christmas Novella' but really, it's a romance for all times and seasons. The delicious if jaded hero, Nicholas, and the independent but innocent heroine, Clare, meet in the worst of circumstances—a snow storm not long before Christmastide begins.
Their journey to a happily ever after was a delight to complete. I hope you will enjoy reading about their meeting as much as I enjoyed writing it.
As the excerpt opens a young lad, Tom, has found a riderless horse that has, in the midst of a snowstorm, wandered into the bailey of a broken-down manor. Tom alerts Sir Nicholas who has brought a small crew of men to put the manor to rights and when Nick investigates, he discovers the mount carries packs filled with lady's clothing.
EXCERPT:
Nicholas swore under his breath. What feather-brained female would venture out in a storm with such few belongings? Any lady he'd ever known traveled with trunks of adornments.
No ignoring the evidence. Some lady or her attendant was likely trudging through the frigid December night after being tossed from this mount.
"Merde!" He sighed and ducked his head, then muttered another curse when kernels of icy snow melted down the back of his neck.
He had no choice. Couldn't leave anyone to wander around in this weather. And a lady, at that. If God had any mercy, He'd see the lady's party found her first. What would Nicholas do with her at the ramshackle manor he'd been tasked with putting to rights? You could do only two things with ladies—marry'em or mount'em. He'd sworn off the first and was too damned cold for the second.
The thought made him pause, and he winced with a flash of remorse. When had he become so cynical? These past months, he'd hardly known himself. He brushed a hand over his face and straightened.
"Take the mare to the stable, Tom, then help me get Solomon ready. I'll see if I can find the lost rider."
Blurb:
He's running from his past; she's running from her future. But on a snowy winter night, they find each other and the surprising gift of love.
Sir Nicholas has given up on marriage. These days he's content to captain his friend's troops and avoid entanglements—until one winter night when he rescues a half-frozen woman from a snowstorm. Her irrepressible spirit and kindness to others reminds him that all ladies aren't like his former intended, who wed his brother while Nick was on crusade. But he can't open his heart to Lady Clare. She's bound to another, and Nick won't forfeit his honor. Even if she were free, he has nothing to offer but love, and this lady deserves everything.
Lady Clare's dying grandfather has arranged her betrothal, but the arrival of the man she's to wed sends her fleeing into a snowstorm. Injured when her horse stumbles, she's rescued by a mysterious knight. She recovers at his run-down manor, safe at last—until her betrothed tracks her down two days before Christmas. Trapped at home with the wedding imminent, she longs for the winter knight she's come to love.
Only a miracle can bring Clare and Nick together. But at Christmas, anything is possible.
BUY LINKS:
AMAZON: https://amzn.to/356xovq