Today marks the end of the Fall Medieval Monday blogs. It doesn't seem possible that three months have passed! We've featured Nature excerpts in this round, each author, with each author featuring excerpts from her own book. is hosting her own book. Here is a look at my novella, A Winter Knight.
THE SET UP
It's December. A snowstorm is sweeping the land when a lone mount loaded with ladies clothing wanders through his gates. Sir Nicholas has been tasked with setting a dilapidated manor to rights, and he's in no mood to play hero. But he can't in all good conscience leave a helpless female stranded. So into the frigid night he rides. He finds Lady Clare unconscious and brings her back to the manor.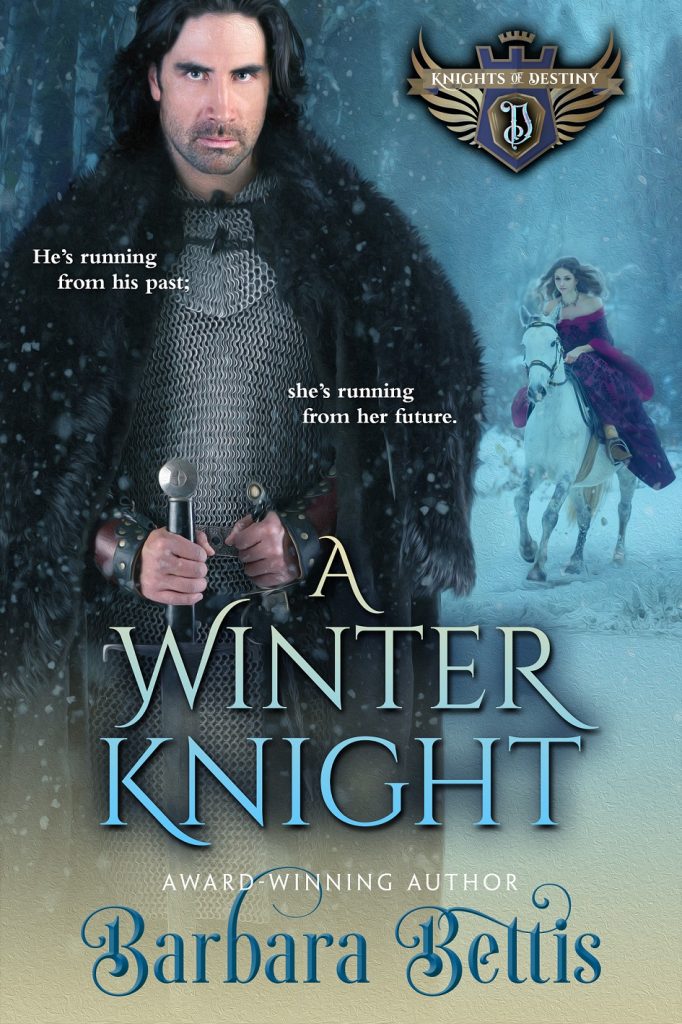 (For easy access to authors taking part in this round of Medieval Monday tales, visit the Medieval Romance Lovers Facebook page. Authors will post their blog links there. You can also find us on Twitter at #MedMonFall20 .)
EXCERPT
In her mind, Clare smiled a reassurance at the boy. In reality, all she could manage was a tiny jerk of the head.
The rubbing sensation progressed to her prickly feet, and she winced. The movement halted and another face appeared in her line of vision. She blinked. Once closed, her eyelids didn't want to lift again. Finally, she managed to drag them up. He was still there.
She knew at once the rough voice from earlier belonged to this man. His face looked as rough as his voice, with cheeks and chin covered in days-old growth of black beard, and thick, black eyebrows arched in broad slashes above deep blue eyes.
It was a compelling, marvelous face. She couldn't take her eyes from it. Beneath the dark bristles, his jaw sat firm and square, his chin resolute, his mouth wide and thin. No, his mouth had simply drawn into a line of concern. For her. It softened when he saw she'd awakened.
The other men moved aside to allow him full access. St. Clarice, he was big. He towered over her like an eagle swooping in for a cowering rabbit. A large callused hand reached for her face, and she instinctively jerked away.
"Easy, lady." The rich, raspy murmur again. "You won't be harmed here. Can you speak?"
Blurb:
He's running from his past; she's running from her future. But on a snowy winter night, they find each other and the surprising gift of love.
Sir Nicholas has given up on marriage. These days he's content to captain his friend's troops and avoid entanglements—until one winter night when he rescues a half-frozen woman from a snowstorm. Her irrepressible spirit and kindness to others reminds him that all ladies aren't like his former intended, who wed his brother while Nick was on crusade. But he can't open his heart to Lady Clare. She's bound to another, and Nick won't forfeit his honor. Even if she were free, he has nothing to offer but love, and this lady deserves everything.
Lady Clare's dying grandfather has arranged her betrothal, but the arrival of the man she's to wed sends her fleeing into a snowstorm. Injured when her horse stumbles, she's rescued by a mysterious knight. She recovers at his run-down manor, safe at last—until her betrothed tracks her down two days before Christmas. Trapped at home with the wedding imminent, she longs for the winter knight she's come to love.
Only a miracle can bring Clare and Nick together. But at Christmas, anything is possible.
BUY LINKS:
AMAZON: https://amzn.to/356xovq