Let's celebrate the first day of March and Week Four of Spring 2021 Medieval Monday. Here with a sample of the First Kiss from her multi-award-winning medieval time travel romance is my friend and fellow Rose, Mary Morgan. MAGNAR is the latest in Mary's popular series, The Wolves of Clan Sutherland. So please sit back in the happy knowledge that Spring is only three weeks away–and enjoy a peek at MAGNAR.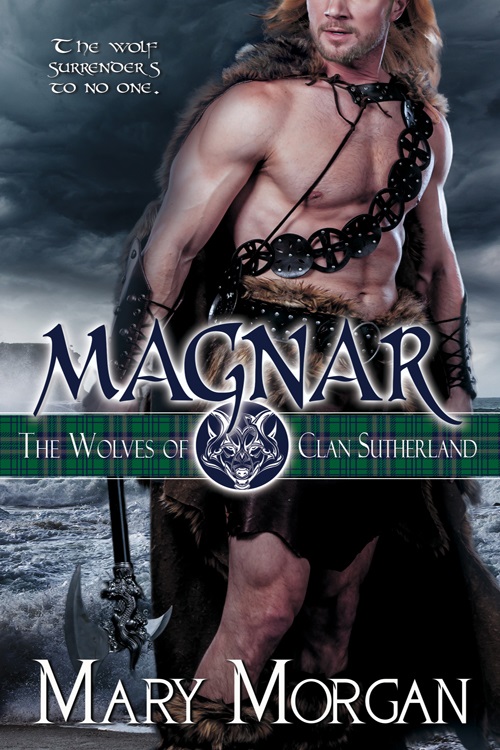 (For easy access to authors taking part in this round of Medieval Monday tales, visit the Medieval Romance Lovers Facebook page. Authors will post their blog links there. You can also find us on Twitter at #MedMonSpring21 .)
BLURB:
The Wolf surrenders to no one.
Known as the Barbarian, Magnar MacAlpin is a fierce ruler for those under his command. As leader of the Wolves of Clan Sutherland, his loyalty and obedience lies with Scotland. However, the king's last demand is not something Magnar will tolerate.
After Elspeth Gunn's brother the Chieftain of Castle Steinn is murdered, she flees with her nephew, and finds safety amongst a band of men who are rumored to be part wolf. When the king forces her to wed a heathen Northman, she fears losing her heart and soul not only to the man, but the beast as well.
In order to restore peace to a shattered clan, Magnar and Elspeth travel a treacherous path that challenges their beliefs. When evil seeks to destroy ancient traditions, will Magnar be compelled to restrain his wolf or allow him free to protect those he loves?
Buy Links:
Amazon: https://amzn.to/2OXUb6d
Apple Books: https://apple.co/32VsVNV
Kobo: https://bit.ly/3gkFLbm
EXCERPT:
Magnar released her, and she stumbled back. She sees you as a loathsome heathen. Ignoring her denial, he continued, "With this marriage, we shall return to Steinn as a united front with King William's blessing. The elite guard will accompany us—"
She shook her head. "'Tis not happening."
"—along with some of the king's guards." He paused and added, "Once there, Halvard can acknowledge the marriage and the new chieftain. Then I will request his departure. If not, I'll challenge the man in the lists."

Last week's snippet on Anastasia Abboud's blog: https://www.anastasiaabboud.com/grainsofsand
Follow along next week on Cathy MacRae's blog: https://www.cathymacraeauthor.com/bits-n-bobs-author-blog
And don't forget to drop by the Medieval Romance Lovers Facebook page each Friday for a chance at a free book! Just make a comment on the weekly topic posted and you'll be entered in the drawing.