Help me give a resounding welcome to the talented Cathy MacRae with the latest of her popular Hardy Heroines Series THE HIGHLANDER'S PIRATE BRIDE. Cathy along with DD MacRae have crafted another exciting and compelling Scottish romance featuring strong, competent heroines and the strong, compelling men who can match them.
And visit Cathy's blog for the next excerpt from my novella, The Lady of the Forest https://www.cathymacraeauthor.com
(For easy access to authors taking part in this round of Medieval Monday tales, visit the Medieval Romance Lovers Facebook page. Authors will post their blog links there. You can also find us on Twitter at #MedMonSpring21 .)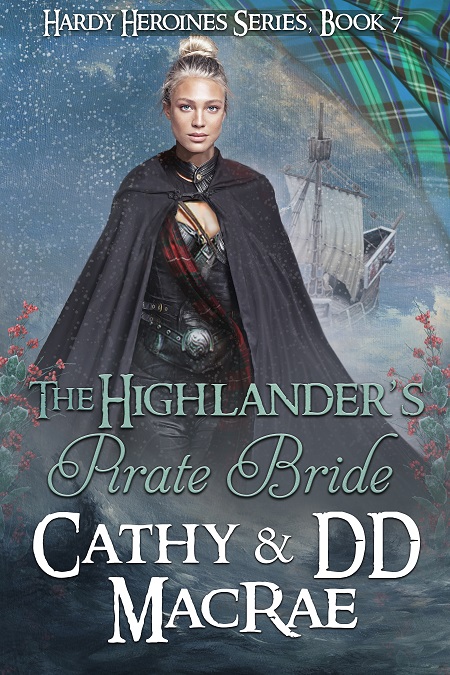 BLURB:
Will the theft of the wrong ship land her in a hangman's noose? Or a Highlander's arms?
As the pirate The Black MacNeill, Rona MacNeill has stolen more than one English ship to keep her clan from starving. With Yule only days away, will the theft of the wrong ship land her in a hangman's noose? Or the arms of a Highlander?
Rona MacNeill has done everything she can to help her small, impoverished clan—except marry for money. Her luck seems to lie in stealing ships, not attracting suitors. Only days before Yule, she seeks one last ship with stores to keep her people fed over the long, harsh winter. Too bad her luck has run out.
Pedr MacLean is happy to be the younger (by three minutes) son of Baron MacLean. His days are filled with running the family's shipping business and sailing the world. His heart belongs to the sea—or so he thinks, until one of his ships is stolen, and the woman responsible turns his world upside down.
Drawn to Rona's strength and love of the sea, Pedr will agree to her father's demand—information on the whereabouts of his ship in exchange for his daughter's hand in marriage. Will Rona find herself caught between a marriage of convenience and a hangman's noose? Or will she discover something far more compelling?
The Highlander's Pirate Bride is the swash-buckling seventh addition to the Hardy Heroines series. If you like pirates, rags-to-riches, and swoon-worthy Highlanders, you'll love Cathy & DD MacRae's newest high-seas romance.
EXCERPT:
Her smile vanished. Entering into a contract with Pedr was one thing. Allowing intimacies was another. Yet, there was no separating the two. Marriages formed alliances. Alliances grew dynasties. Children were required to inherit those dynasties.
Buy link:  https://www.amzn.com/dp/B08WFJFT8D

And don't forget to drop by the Medieval Romance Lovers Facebook page each Friday for a chance at a free book! Just make a comment on the weekly topic posted and you'll be entered in the drawing.