We're in for a treat today with USA Today Bestselling Author Ruth A. Casie and her award-winning tale of the Knight of Runes. The exciting time-travel also features Lord Arik, a tempting druid knight. Sit back for a tantalizing glimpse of the book.
You can find the next installment of my The Lady of the Forest on Ruth's blog today. http://www.RuthACasie.blogspot.com
(For easy access to authors taking part in this round of Medieval Monday tales, visit the Medieval Romance Lovers Facebook page. Authors will post their blog links there. You can also find us on Twitter at #MedMonSpring21 .)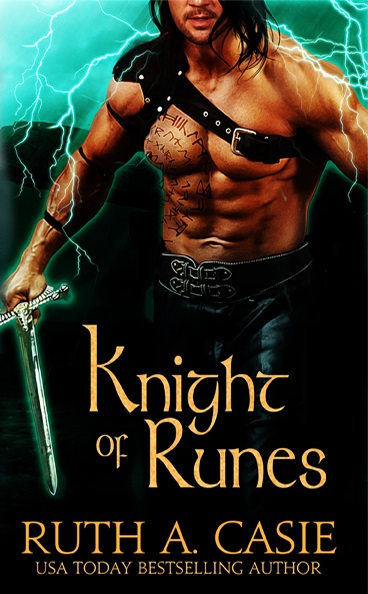 BLURB:
He is her key to return to the 21st century.
She is the only one who can save him.
England
May, 1605
When Lord Arik, a druid knight, finds Rebeka Tyler wandering his lands without protection, he swears to keep her safe. But Rebeka can take care of herself. When Arik sees her clash with a group of attackers using a strange fighting style, he's intrigued.
Rebeka is no ordinary seventeenth-century woman—she's travelled back from the year 2011, and she desperately wants to return to her own time. She poses as a scholar sent by the king to find out what's killing Arik's land. But as she works to decode the ancient runes that are the key to solving this mystery and sending her home, she finds herself drawn to the charismatic and powerful Arik.
"Ruth A. Casie, weaves an exciting and beautifully told legendary tale that is both rich and engaging.  It is full of, 'on the edge of your seat' suspense, mind-boggling drama and a forever-after romance. Ms. Casie's sparkling new novel, KNIGHT OF RUNES is a winner!" ~ Romance Junkies
As Arik and Rebeka fall in love, someone in Arik's household schemes to keep them apart, and a dark druid with a grudge prepares his revenge. Soon Rebeka will have to decide whether to return to the future or trust Arik with the secret of her time travel and her heart. 
Buy Links: Amazon: https://amzn.to/2C73zRV

EXCERPT:
He put his hand behind her head and drew her close to him.
Her tongue flashed out as she moistened her lips.
The movement tantalized him so, he ran his thumb over her full lower lip.
The intimate touch burned him like a brand.
He focused on her eyes and the silver flecks that sparkled in the moonlight. He memorized her face, devouring the image of her. Mine, was all he heard, beating like a drum from some deep dark place. Mine
Follow along next week (March 29) for excerpt #8 here https://www.cathymacraeauthor.com/bits-n-bobs-author-blog
Please leave a comment below. Miss last week and a chance to comment? Check it out here: https://www.marymorganauthor.com/blog
~~~~~~~~~~~~~~~~~~~~~~~~~~~~~~~~~~~~~~~~~
And don't forget to drop by the Medieval Romance Lovers Facebook page each Friday for a chance at a free book! Just make a comment on the weekly topic posted and you'll be entered in the drawing.