It's a pleasure today to welcome best-selling author Jenna Jaxon. Jenna is sharing from Book Two of her popular Time Enough to Love Series with BETRAYAL
You can find the next installment of my The Lady of the Forest on Jenna's blog: https://jennajaxon.wordpress.com/
Tagline: The worst betrayals come from within.
Blurb: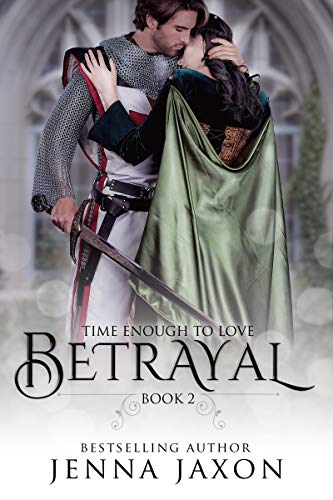 After a night of passion with her betrothed, Sir Geoffrey Longford, Lady Alyse de Courcy is eagerly looking forward to her wedding. But when Geoffrey is forced to marry another, a heartbroken and possibly pregnant Alyse finds herself in her own private hell. She must either gamble with her reputation or marry someone she does not love.
A reputed connoisseur of women, Thomas, Lord Braeton, has dallied with many ladies of King Edward's court, although he has favored none. However, as Geoffrey's best friend, Thomas has sworn to serve and protect Alyse, an oath now sorely tested when he agrees to marry her—in name only—to guard her reputation. Yet, as they grow closer, and Thomas discovers Alyse's sweet but spirited nature, he comes to desire a marriage in truth.
Can he overcome her memory of Geoffrey, or is Thomas doomed to burn with passion for a woman he can never possess?
Buy Links:
Amazon: https://www.amazon.com/gp/product/B00I4IKQ8G/ref=dbs_a_def_rwt_bibl_vppi_i25
Smashwords,: https://www.smashwords.com/books/view/403200
B & N: https://www.barnesandnoble.com/w/betrayal-jenna-jaxon/1118591851?ean=2940045674331
iTunes: https://books.apple.com/us/book/betrayal-book-2-time-nough-to-love/id815348280
Kobo: https://www.kobo.com/us/en/ebook/betrayal-book-2-time-enough-to-love

EXCERPT:
She closed her eyes, willing herself to submit to this bombardment of her senses. Best to feel rather than think for thinking could do naught but lead to disaster.
When Thomas reached her shoulder, he lifted his head to speak gently in her ear, his voice low and alluring. "Sweet Alyse, shall we seal our betrothal with a kiss?"
She squeezed her eyes shut and gave a bare nod. The tender caresses and his beguiling tone were attentions she could cope with. A kiss, however…
Last week's snippet on Mary's blog: https://www.marymorganauthor.com/blog

Follow along next week on Cathy MacRae's blog: https://www.cathymacraeauthor.com/bits-n-bobs-author-blog

~~~~~~~~~~~~~~~~~~~~~~~~~~~~~~~~~~~~~~~~~
And don't forget to drop by the Medieval Romance Lovers Facebook page each Friday for a chance at a free book! Just make a comment on the weekly topic posted and you'll be entered in the drawing.