Goodness, it seems impossible that this is the third to last week for the spring rounds of Medieval Monday. And you'll definitely be intrigues by A Highland Autumn, by Sophia Nye, this week's feature. This is Book One in her Seasons of Scotland series, and I'm sure you'll agree that, judging by this beginning, the series will be an exciting one.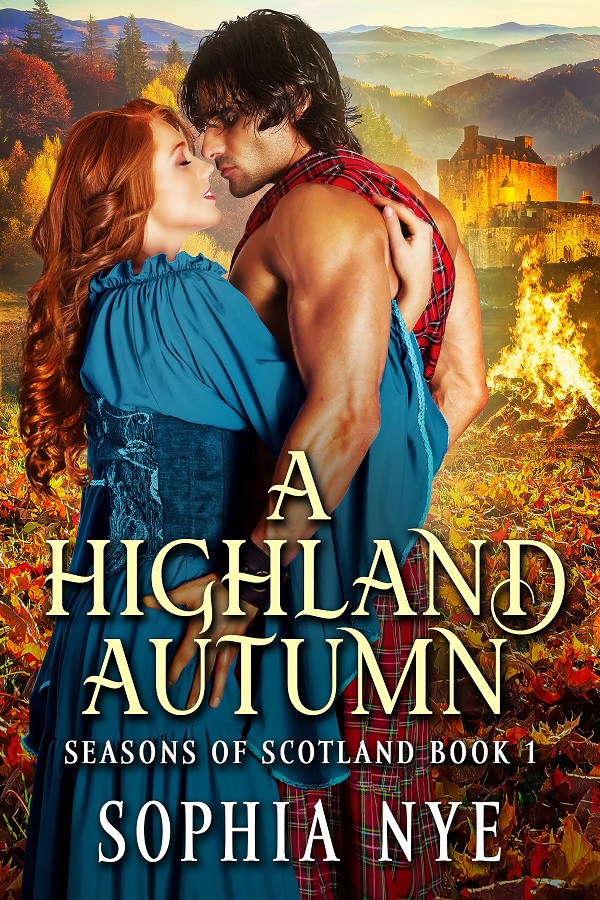 You can find the next installment of my The Lady of the Forest at Sophia's blog today: http://www.sophianyewrites.com/blog
Don't forget to check out all the authors taking part in the tour today. Go to Medieval Romance Lovers | Facebook A link to each author's blog will be posted there. And don't forget to stop by the FB page each Friday for a chance at a free book.
Tagline: A murder, a mix-up, and a midnight missive make for one unforgettable Highland romance…
Blurb:
When a fiery, red-haired Englishwoman falls for the laird's charming, off-limits son, their passion ignites a fire that threatens to engulf the clan.
Ronan Calder, eldest son of Clan Calder's laird, is going to stay as far away from marriage as he can get. After losing his mother and beloved sister during childbirth, Ronan knows there is no way he could ever inflict such a fate upon any woman. Things get a little complicated when he meets the enchanting new scholar and mistakes her for his future bride.
Adelina Matheson has every intention of becoming the first female scholar at Oxford, and the quick wit to prove it. The only thing she's missing is permission to attend lectures. When the masters challenge Adelina to serve as advisor to a Highland laird in exchange for entry, she is left with little choice. She agrees to the challenge – surely she can manage such a simple task to prove herself.
Except that once Adelina arrives at Calder Keep, she realizes that nothing about her task is simple. She must battle her alarming attraction to the laird's handsome son while enduring the laird's beastly temper. The only other Englishwoman is also her competition for Ronan's affection, and the entire clan is under threat of attack at the upcoming Samhain celebration. Can Ronan and Adelina put aside their personal troubles and save Clan Calder, or will they doom the entire clan?
Buy link:
Amazon https://www.amazon.com/dp/B08L8PRG18
EXCERPT:
She pressed herself so tightly against him that he could feel every curve of her, awakening a need he had long sought to avoid. He teased her lips apart with his tongue, greedily tasting her until she let out a sultry sigh. Ronan pushed the kiss deeper and deeper until it threatened to rob him of all sense.
Reluctantly, he finally pulled away, her fingers still laced in the hair at the nape of his neck. Those lips of hers were bright pink now, swollen and full after such a thorough kissing. He couldn't fathom what he ought to say next, nor could he afford to contemplate what such a moment might mean over the coming days.
Her bright blue eyes, clouded with a desire to match his own, searched his face. She looked far too sad for a lass who was in the arms of a man.
See last week's snippet on Mary Morgan's blog: https://www.marymorganauthor.com/blog
Follow along next week on Cathy MacRae's blog: https://www.cathymacraeauthor.com/bits-n-bobs-author-blog
~~~~~~~~~~~~~~~~~~~~~~~~~~~~~~~~~~~~~~~~~
And don't forget to drop by the Medieval Romance Lovers Facebook page each Friday for a chance at a free book! Just make a comment on the weekly topic posted and you'll be entered in the drawing.