Our Springtime blog exchanges are nearly over. This is the penultimate post and I'm thrilled to welcome one of the group's newest members, Daryl Devoré  . Her fascinating medieval fantasy pits a disillusioned knight against a power sorcerer's creation of three powerful dragons to save a heroine who's been shunned for her own powers. Here's a tantalizing look at the The Last Dragon by Daryl Devoré .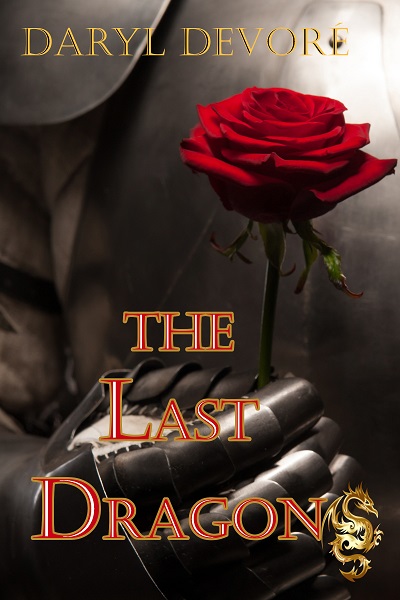 You can find the next installment of my The Lady of the Forest at https://daryldevore.blogspot.com/
And check out all the authors taking part in the tour today. Go to Medieval Romance Lovers | Facebook A link to each author's blog will be posted there. And don't forget to stop by the FB page each Friday for a chance at a free book.
TagLine – A prince. A sorceress. And a heart-breaking secret.
BLURB:
What do dragons, knights and romance have in common? Grab a copy of multi-published author Daryl Devore's medieval fantasy romance – The Last Dragon and discover the answer.
A sorcerer craving dominance merged with a dragon, the power overwhelmed him causing him to split into three dragons. Demora ruled thought, but was lost in time. Yidithe offered protection, shining like the light of the sun. Ayrradex craved chaos, revelling in destroying souls.
Many knights died, attempting to slay the devil beast. One knight, Prince Hawkyns, did not fear death. He'd lost everything. Away on a mission when Ayrradex attacked his father's kingdom, Penrythe, Hawkyns returned to find his noble father – feeble and defeated. His wise mother – crazed. His beautiful wife and unborn child – dead. Only a pile of ashes remained for him to bury. He knelt before his King and vowed to slay the devil-beast or be slain.
Derry was born with powers that terrified her parents. They delivered her to a nunnery to be raised in secret. Jathe, a wise sorceress, discovered the young girl and trained her to one day use the secret hidden in her soul.
Legends spoken around campfires hinted the sole way to destroy Ayrradex was when the hearts of a knight and a golden dragon became one. But after a vicious battle with Ayrradex, the golden dragon was thought to be dead.
Can Prince Hawkyns's bravery and Derry's powers end the reign of the devil-beast's terror?
Buy Links:
Amazon – ebook – https://www.amazon.com/dp/B08QPW4CVF
Amazon – print – https://www.amazon.com/dp/B08QRVJ59P
Books2read – universal link – ebook – https://books2read.com/The-Last-Dragon
Books2read –universal link – print – https://books2read.com/The-Last-Dragon-
EXCERPT:
After dismounting, Hawkyns led both horses inside and showed Derry a small bench. With relief at being out of the cold rain, she sat.
Hawkyns tended to the horses. He moved effortlessly and did not settle until they had been watered, fed and had a warm bed for the night.
Chores complete, he sat next to her. She tried to still the trembles, but she was too chilled from the storm. He rubbed his hands along her arms, trying to create heat.
"We cannot have a fire to warm us, but I can make a bed in the hay. Uh…" He seemed mystified. Relief poured over him as she answered the question he did not know how to ask.
See last week's snippet on Mary Morgan's blog – https://www.marymorganauthor.com/blog
Follow along next week on Cathy MacRae's blog – https://www.cathymacraeauthor.com/bits-n-bobs-author-blo
~~~~~~~~~~~~~~~~~~~~~~~~~~~~~~~~~~~~~~~~~
And don't forget to drop by the Medieval Romance Lovers Facebook page each Friday for a chance at a free book! Just make a comment on the weekly topic posted and you'll be entered in the drawing.