I am so excited to welcome everyone to a special Medieval Monday to celebrate with debut author Jennifer Ivy Walker the release of her first book, The Wild Rose and the Sea Raven. . My fellow Rose (The Wild Rose Press) has crafted an exiting tale of romance and action and magic in this medieval/paranormal tale, the first of a trilogy.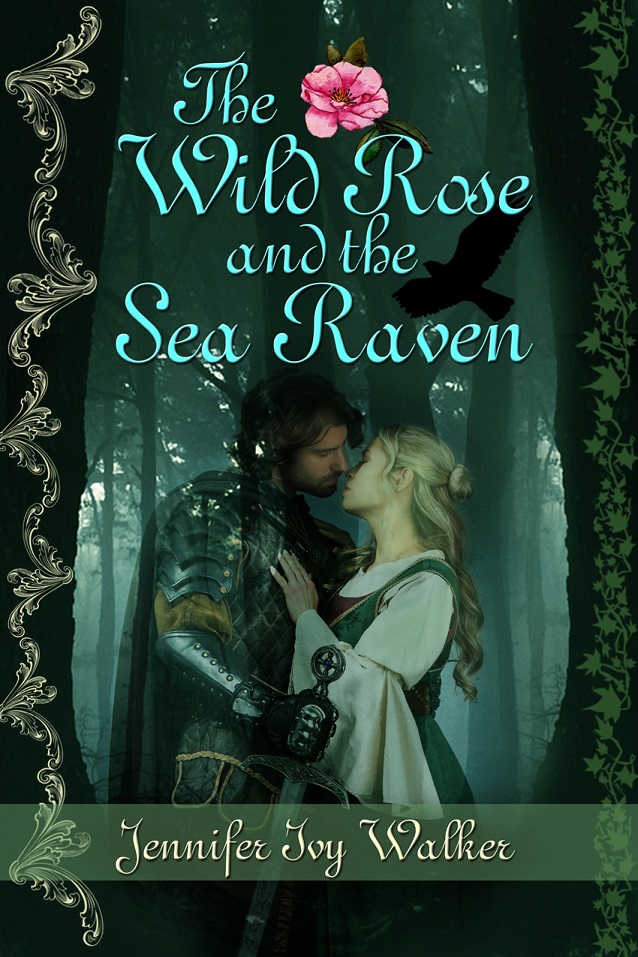 So now, let's meet Ivy, learn a bit about the book, and hear what inspired her to bring this story to us. It's all yours, Ivy!
Ever since childhood, I've wanted to be a writer. I've always been enthralled with stories of chivalrous knights and elegant ladies, fairy tales and fantasy, Arthurian myth, and Avalon. And when I began studying the language of love, I embarked on a lifelong passion for the beautiful French language and extraordinary culture.
While earning my MA in French literature, I fell in love with the medieval legend of "Tristan et Iseult" and the dark folklore from the enchanted Forest of Brocéliande, birthplace of Merlin, the Lady of the Lake Viviane, and Sir Lancelot, the intrepid First Knight of King Arthur Pendragon.
I became a high school teacher and college professor of French, spending summers abroad, exploring castles in the Loire Valley, medieval sites of pilgrimage, such as le Mont-Saint-Michel, and troglodyte caves in Aquitaine. When I spent a summer in the quaint village of Lisieux– where the French princess Aliénor d' Aquitaine married king Henri II Plantagênet in 1152—I learned a great deal about the Viking heritage of Normandy and the subsequent influence of Norman French on the history of England.
Each year, I taught my French IV students about the Middle Ages in France, and as part of that study, we always read the legend of "Tristan et Iseult", in which I used puppets to illustrate the story, combining music, theater, and film in a multidisciplinary study of French language and culture.
My debut novel, "The Wild Rose and the Sea Raven"—book 1 of my trilogy—is a paranormal fantasy, medieval romance adaptation of the legend of "Tristan et Iseult", interwoven with Arthurian myth, otherworldly elements such as Druids, forest fairies, diabolical dwarves and Avalonian Elves, enhanced with dark, mysterious fairy tales and my lifelong love of French.
Blurb:
In this dark fairy tale adaptation of a medieval French legend, Issylte must flee the wicked queen, finding shelter with a fairy witch who teaches her the verdant magic of the forest. Fate leads her to the otherworldly realm of the Lady of the Lake and the Elves of Avalon, where she must choose between her life as a healer or fight to save her ravaged kingdom.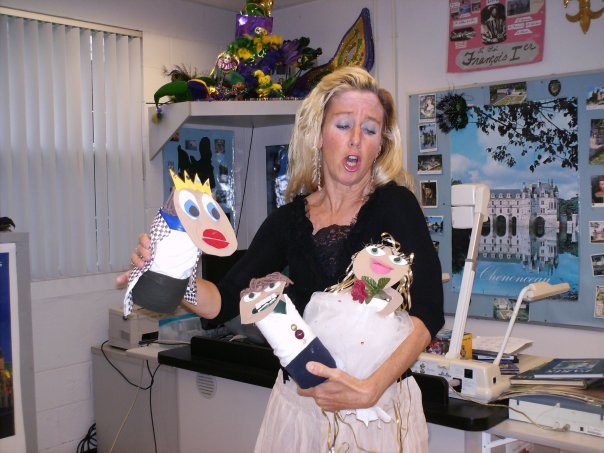 Tristan of Lyonesse is a Knight of the Round Table who must overcome the horrors of his past and defend his king or lose everything. When he becomes a warrior of the Tribe of Dana, a gift of Druidic magic might hold the key he seeks.
Haunted and hunted. Entwined by fate. Can their passion and power prevail?
Excerpt:
Taking another gulp of ale, Tristan turned to Lancelot and searched his knowing eyes. "I don't know if she even exists, Lancelot, but I want a woman who makes me feel alive! I want her kisses to arouse my passion, her heart to sing to mine. I want a muse to inspire my song, a lady to whom I would pledge my sword—and my life." Tristan shook his head and sighed. "Is such a love even possible?"
The First Knight of Camelot responded with a sad smile. "It is indeed possible, Tristan." Lancelot turned his pensive gaze to the vast expanse of sea. "In French, we call such a love l'amour fou—a passion so intense… it can drive you mad."
Lancelot glanced back at Tristan, a forlorn smile reaching his intense blue eyes. "When you find such a woman, Tristan, the love she gives you fills every empty hollow in your soul. She completes you; she invigorates you; she thrills you. And, when you consummate such a love, the exquisite blend of the spiritual and physical realm will satisfy you more than the finest wine or the greatest victory in battle. The love she gives you with her body will transport you to the stars, and you will never experience a greater joy."
And, though he smiled, Tristan saw that the First Knight emanated loneliness, suffering, and sorrow. As Lancelot returned his gaze across the faraway sea, Tristan knew that the White Knight of Avalon longed for the beautiful blond queen of Camelot.
Buy link: The Wild Rose and the Sea Raven (Amazon)

The Wild Rose and the Sea Raven|eBook (B&N)
The Wild Rose and the Sea Raven by Jennifer Ivy Walker | eBook | Barnes & Noble® (barnesandnoble.com)
Bio:
Enthralled with legends of medieval knights and ladies, dark fairy tales and fantasies about Druids, wizards and magic, Jennifer Ivy Walker always dreamed of becoming a writer. She fell in love with French in junior high school, continuing her study of the language throughout college, eventually becoming a high school teacher and college professor of French.

As a high school teacher, she took her students every year to the annual French competition, where they performed a play she had written, "Yseult la Belle et Tristan la Bête"–an imaginative blend of the medieval French legend of "Tristan et Yseult" and the fairy tale "Beauty and the Beast", enhanced with fantasy elements of a Celtic fairy and a wicked witch.

Her debut novel, "The Wild Rose and the Sea Raven"–the first of a trilogy– is a blend of her love for medieval legends, the romantic French language, and paranormal fantasy. It is a retelling of the medieval French romance of "Tristan et Yseult", interwoven with Arthurian myth, dark fairy tales from the enchanted Forest of Brocéliande, and otherworldly elements such as Avalonian Elves, Druids, forest fairies and magic.

Explore her realm of Medieval French Fantasy. She hopes her novels will enchant you.
Website: https://jenniferivywalker.com/
Facebook: https://www.facebook.com/JenniferIvyWalker
Twitter: https://twitter.com/bohemienneivy
Instagram: https://www.instagram.com/jenniferivywalkerauthor/
Amazon link: https://www.amazon.com/~/e/B0B91R2MJZ
Barnes and Noble: https://www.barnesandnoble.com/w/the-wild-rose-and-the-sea-raven-jennifer-ivy-walker/1141977954?ean=2940186736387&fbclid=IwAR3DwraRnElU-XxxDXI-iVIItQ4X3HPeHlx7sS3l8fugfrthoIsfftXRUpk
NOTE: Be sure to visit my fellow Medieval Monday Roses (The Wild Rose Press) Mary Morgan and Anastasia Abboud . They always have something interesting planned. You can find them here:
Mary: https://www.marymorganauthor.com/blog
Anastasia: http://anastasiaabboud.com