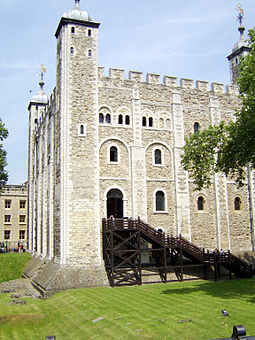 I enjoyed relating a bit about two of the castles or palaces important to the English royal family–and to England itself. But I have to confess–I love old castles. The history they hold, the imagination they can inspire, never cease to amaze me. So I want to periodically share more of these old places with you.
I'd like to start with an original Norman defense tower in London, The White Tower.
The Tower of London, of which the White Tower was the original structure, is a sprawling complex that has served many functions over the years from prison to zoo to home of the Crown Jewels.
The heart of the complex, its first structure, was the White Tower, built by William the Conqueror. Shortly after his victory and coronation in 1066, he ordered a castle built in London, as a sign of his power. That original structure begun in late 1066 was wooden. Building on the stone structure began about a decade later and took several years to complete.
In 1240, Henry III ordered the building whitewashed.
Following his circuit of the country stamping out further resistance to his conquest, William returned to London and in 1078, work began on the stone version of the castle that would become the White Tower, so called because it was white washed. Stones used also gave the illusion of white. The exact date of completion is uncertain but probably came in the late 1080s or 1090s. Differing sources give differing dates.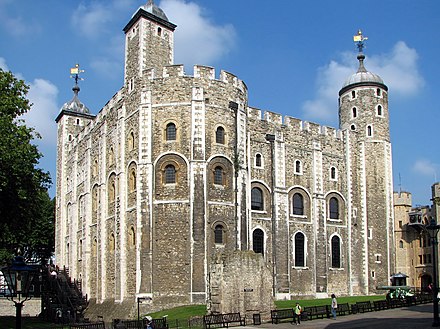 That very tall white structure, glowing with reflected sunlight, was intended to impress the people of the city—and anyone else who approached, most especially from the Thames. The White Tower became the center of what eventually expanded into the castle as we see it today.
Stories of betrayal, drama, and tragedy fill the history of the 900+ year old structure. Among them, the tower has been used as a prison and place to torture and death. According to the official website, Henry VI was murdered while he was praying in a chapel there. And most people know the story of the two princes who disappeared. Sons of Edward IV, the boys vanished in 1483. Again according to the website, two skeletons were discovered within the walls of the Tower in the 1600s and assumed to be the princes. The remains were again tested and judged belonged to boys between the ages of 10 and 12. That was the age the of when they disappeared. Legend has it they were murdered by their uncle, Richard III.
I'm sure many people have heard of other figures held there before being put to death. But the White Tower has served many more uses throughout the years. Royal residence, armory, jewel repository, and many others.
Images are from Wikipedia.
NOTE: Be sure to visit my fellow Medieval Monday Roses (The Wild Rose Press) Mary Morgan and Anastasia Abboud . They always have something interesting planned. You can find them here:
Mary: https://www.marymorganauthor.com/blog
Anastasia: http://anastasiaabboud.com