Martinmas: Celebrating the Oncoming Winter
We don't always think of the medieval period as being a time of parties. But people then actually celebrated a variety of special days, many named for saints. Often the saint day observances coincided with earlier (pagan) celebrations.
On Nov. 11, St. Martin's Day or Martinmas was, indeed, a major holiday. The Martinmas feast, celebrated the end of autumn and the 'natural' beginning of winter.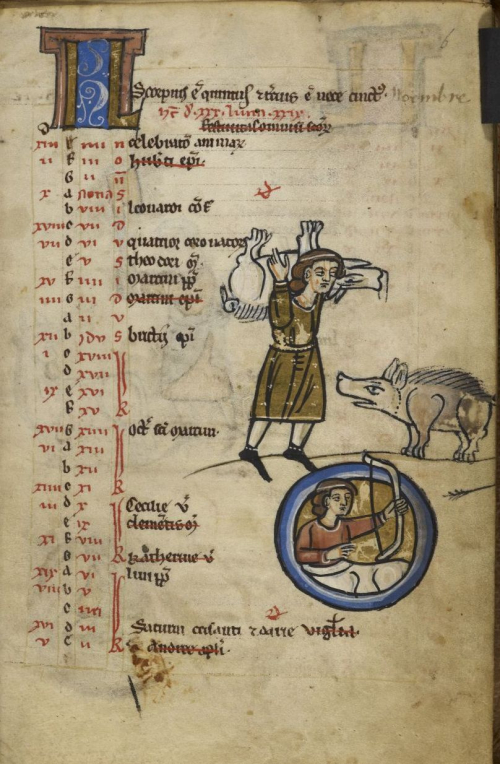 By November the autumn harvest was complete and the land prepared for winter crops. Time to get ready for the challenging days of winter. Hogs that had been turned out into the woods in October to fatten on acorns were brought in and slaughtered, and the meat preserved. Cattle were butchered, as well, keeping only those few used to begin production in the spring. (Food was scarce enough; extra for animals wasn't available.)
In fact, the term Martinmas (or martlemass) cattle was applied to cattle butchered at this time of year. And the hog slaughter is reflected in the old English saying his "His Martinmas will come as it does to every hog," meaning "he will get his comeuppance" or "everyone must die" (Wikipedia.com).
Because of this widespread butchering, November was often called Bloodmonth. Sounds gruesome, doesn't it? Actually, it refers to this period of slaughtering animals to be preserved for food during the long, cold months ahead.
The Old English name for November was 'Blotmonth' literally "blood-month," "the time when the early Saxons prepared for winter by sacrificing animals, which they then butchered and stored for food" (etymonline.com). The name November came from "ninth month" which was where November fell in the old Roman calendar.
This celebration of the end-of-harvest-beginning-of-winter honors St. Martin of Tours. A predominant image of St. Martin is of his cutting his cloak in half during snowstorm and sharing with a beggar he saw along the roadside. It is said that during that same night, he had a dream of Jesus who appeared in half a cloak and said Martin has been chosen.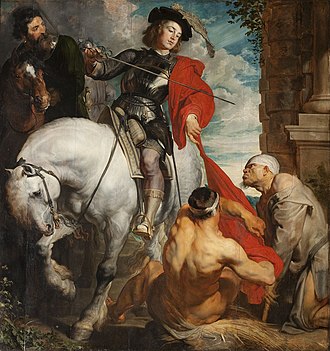 He was a former Roman soldier who later became a humble monk and so deplored the idea of becoming a bishop, tradition says, he hid in a pen of geese. It didn't save him. The honking geese alerted churchmen to his whereabouts. He was brought forth and ordained Bishop of Tours. Thereafter, geese were identified with St. Martin. And goose traditionally was eaten during the Martinmas feasts. Unless you were poor, of course. Then you couldn't afford it. If you were lucky, you got chicken. Or maybe pork. Or beef. Those two meats were handy, after all.
In the countryside, this time of bounty was celebrated with bonfires, dancing and, of course, drinking and eating. In Scotland, it was a quarter day. (England's corresponding quarter day fell in September.)
St. Martin's day, the first feast day in November, could be considered a 'man's day.' But the second November feast/holiday later in the month was in honor of St. Catherine. It was considered a 'ladies' day.' It gave rise to the term the Catherine Wheel. But that's another story.
Thanks for stopping by to hear the story of St. Martin's Day and Feast. It sounds a lot like Thanksgiving, doesn't it? What's your favorite Thanksgiving dish?
sources:
http://www.fisheaters.com/customstimeafterpentecost15.html
http://en.wikipedia.org/wiki/St._Martin%27s_Day
www.catholic.org/saints/saint.php?saint_id=81
http://blogs.bl.uk/digitisedmanuscripts/calendars/page/2/
NOTE: Be sure to visit my fellow Medieval Monday Roses (The Wild Rose Press) Mary Morgan and Anastasia Abboud . They always have something interesting planned. You can find them here:
Mary: https://www.marymorganauthor.com/blog
Anastasia: http://anastasiaabboud.com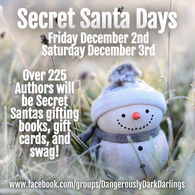 Mark your calendars for Dec 2 and Dec. 3 for your very own Santa Time. Because what could be better than free books, goodies, and gift cards? They will all be on the following FB site on the first Friday and Saturday of Christmas Month. https://www.facebook.com/groups/DangerouslyDarkDarlings

Have you been naughty or nice? If the answer is 'Yes'!
Join Abbie's Dangerously Dark Darlings Facebook Group for Secret Santa Days! 
Over 225 Authors will be gifting books, gift cards, and swag! It's a great way to kick off the Holiday Season and meet some new authors! You'll find all genres of books there–including mine. See you then.