I love to read about–and tour if I'm lucky enough to visit–old castles. They are fascinating–and inspiring as far as book ideas go. I plan to share photos and stories about some of these places each month. Hope you enjoy hearing about them too.It's fascinating how much of English history is threaded throughout all those old walls. Today we'll begin with Portchester.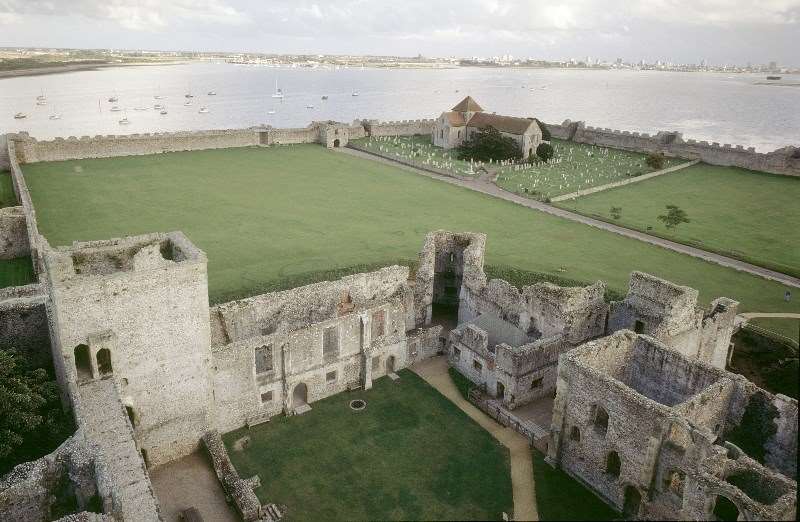 Portchester Castle was originally the site of Roman fort Anderitum or Anderida, built in the late 290s. After the Romans left, the fort was occupied by Saxons.
Portchester Manor was granted to William Maudit, one of William the Conqueror's men. Although the original may have been made of wood, like many of the first Norman-built structures, the outer bailey stood behind the original Roman wall.
Soon replaced by a stone structure, the castle figured in many political events throughout the Middle Ages. When Henry II came into power, he claimed the castle and it remained in royal possession for several hundred years. Portchester was the scene of Henry II's meeting with the Bishop of Evreux about Thomas Beckett.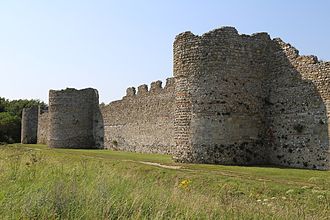 King John stayed there frequently, and the castle featured prominently in Shakespeare's Henry V. It fell into disrepair in the 1300s although over the later centuries work was completed on it. However, upkeep still lagged and the state chambers weren't fit to house Queen Elizabeth when she made a visit there. Word is, she had to dine in the bedchamber of the castle's warden.
In later centuries, it was used for military purposes and as a prison. Several thousand French prisoners were housed there during the Napoleonic Wars.
Don't forget to drop by my fellow Ladies of Medieval Monday blogs to see what they might have in store today.
https://www.anastasiaabboud.com/a-little-romance
Anastasia Abboud– https://www.anastasiaabboud.com/a-little-romance
Mary Morgan–https://www.marymorgan.com
https://www.marymohttps://www.marymorganauthor.com/rganauthor.com/