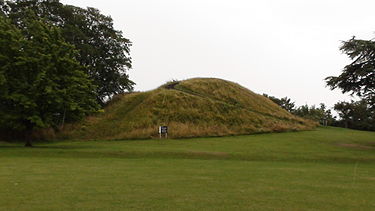 All that remains of Cambridge Castle, an influential holding in the 11th, 12th, and 13th centuries, is a remnants of the original motte, called Castle Mound in the area of Castle Hill. William the Conqueror ordered the wooden motte and bailey structure built along the primary road (the Old Romance Road) from London to York about 1068, after William's sweep to capture the north of England. It was constructed in the town of Cambridge (known then as Grantabridge). Sources said some 27 houses had to be destroyed to build it.
Another source reports that Castle Hill had been the site of several earlier fortifications from the Romans to the Anglo-Saxons and Vikings. Archeological finds have confirmed these much and perhaps even earlier settlements.
No particular turmoil existed around Cambridge Castle until the war between Stephen and Matilda, or the Anarchy. In that war, each side captured then lost the castle. Ironically, Stephen had some defenses built at Burwell Castle, ostensibly to help deflect attention from Cambridge. Indeed, one of Matilda's supporters, Geoffrey, died attacking Burwell, and Cambridge Castle remained relatively safe.
Much later, King John undertook some expansion of the place before the first Baron's Revolt. In that revolt, Cambridge Castle fell (1216). Later the castle was returned to the crown although only basic upkeep was done.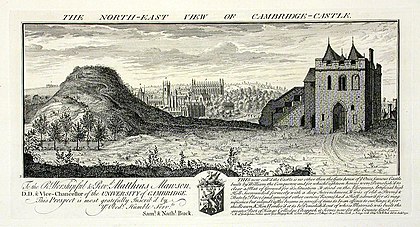 During the second Baron's War (1266) the castle was attacked again, but Henry III's forces came to the rescue.
It wasn't until Edward I's time that the castle was rebuilt in stone and became an impressive structure. Circular towers anchored every corner and an impressive gatehouse and barbican were added. More than 14 years was spent on the rebuilding—and it was never really completed.
After that for some reason the place was not given much upkeep and it fell into disrepair in the 14th century. Much of the stone from the buildings was used (beginning by grant from Henry VI) for the construction of several of the colleges in what was to become one of the two major university towns.
Enough of the defense work was left for Cromwell to make build upon during those years. Later, in the early 1800s, what was left of the Castle and buildings was used as jails.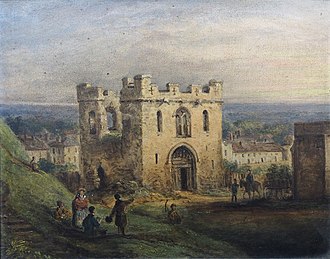 Eventually, the last of the structures, the gatehouse, was dismantled to make way for a county courthouse.
Photos: All that remains today of Cambridge Castle is the remnant of the motte, referred to as Castle Mound in the area of Castle Hill. Next: An engraving of the gatehouse and motte in 1730. Last: An 1841painting of the gatehouse.

Don't forget to visit the other ladies of Medieval Monday, Mary Morgan and Anastasia Abboud.
www.anastasiaabboud.com/alittleromance www.marymorganauthor.com/blog