Please join me in welcoming talented author Laura Strickland to the Solar on this special day to celebrate the launch of her new book, The Mistletoe Heart. It is the latest entry in the Christmas in the Castle Series from The Wild Rose Press. Laura is a multi-genre writer, whose works include contemporary, Steampunk, and historical, especially medieval. Here's a peek at The Mistletoe Heart.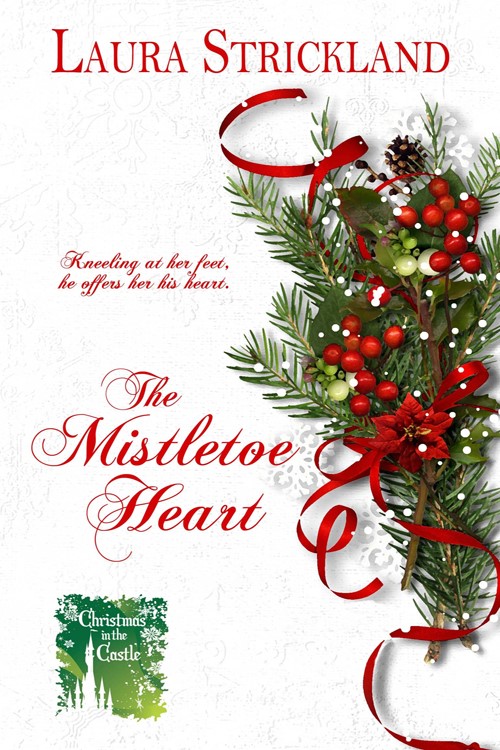 BLURB:
Kneeling at her feet, he offers her his heart.
It's the Christmas season at Clarendon, and Genevieve DeClare is determined to provide a joyful holiday for her mother and sister, despite the losses they've endured the past year. The castle is decked with greenery and she's planned a lavish feast. Awaiting her guests, her heart longs for one more thing: the return of her betrothed, Maddox DeVille, who departed on a pilgrimage to the Holy Land a year ago.
But when an unexpected guest arrives, he's a stranger. Tomas Monmercy, a knight newly returned from the Crusades, has traveled many weary miles to fulfill a promise and bring Genevieve the talisman she entrusted to Maddox—a mistletoe heart. Tomas considers it a sacred duty. He certainly never intends to fall in love with the beautiful maiden his friend loved so well.
EXCERPT:
A check in his step had him pausing. She could feel the intensity of his gaze marking her every feature, even if she could not see his face.
Her mother and her sister both exclaimed, and got to their feet. Like Genevieve, Gilliane started forward. Genevieve barely noticed. She reached him first and grasped for his hands.
They felt cold, cold as the grave, and they gripped Genevieve's with frantic strength. In one movement, he went down to his knee on the flagstone floor and tossed the hood back onto his shoulders.
She found herself staring into the face of a stranger.
Not Maddox. Not her friend at all. He could not be more unlike.
This man had dark hair, a profusion of curls that tumbled down his neck and over his brow. He had a narrow face bracketed by lines in the cheeks, though he could not be above a score and five. His eyes, too, were dark and burned with a kind of passion Genevieve had never before beheld.
"Lady Genevieve DeClare?"
Genevieve tried to recoil but he held the hands she'd offered so eagerly, held them tight. Behind her, Gilliane cried out. Uncle Gervase exclaimed and started forward, but she could look nowhere save into those liquid, dark eyes.
BUY LINKS:
Amazon: https://www.amazon.com/Mistletoe-Heart-Christmas-Castle-ebook/dp/B0CJVWDYV4
iTunes: https://books.apple.com/us/book/the-mistletoe-heart/id6467776418
Barnes & Noble: https://www.barnesandnoble.com/w/the-mistletoe-heart-laura-strickland/1144123035?ean=2940186006329
Kobo: https://www.kobo.com/us/en/ebook/the-mistletoe-heart
Goodreads: https://www.goodreads.com/book/show/199272926-the-mistletoe-heart?ac=1&from_search=true&qid=LJvkqFzXqY&rank=1
BookBub: https://www.bookbub.com/books/the-mistletoe-heart-by-laura-strickland
BIO:
Multi award-winning author Laura Strickland delights in time traveling to the past and searching out settings for her books, be they Historical Romance, Steampunk or something in between. Her first Scottish Historical hero, Devil Black, battled his way onto the publishing scene in 2013, and the author never looked back. Nor has she tapped the limits of her imagination. Venturing beyond Historical and Contemporary Romance, she created a new world with her ground-breaking Buffalo Steampunk Adventure series set in her native city, in Western New York. Married and the parent of one grown daughter, Laura has also been privileged to mother a number of very special rescue dogs, the latest of whom is a little boy named Tinker, and is intensely interested in animal welfare. Her love of dogs, and her lifelong interest in Celtic history, magic and music, are all reflected in her writing. Laura's mantra is Lore, Legend, Love, and she wouldn't have it any other way.
FIND LAURA HERE:
Website: www.laurastricklandbooks.com
Facebook: https://www.facebook.com/profile.php?id=100000002632317
Amazon:  http://www.amazon.com/Laura-Strickland/e/B001KHSACW/ref=ntt_athr_dp_pel_1
Goodreads: https://www.goodreads.com/author/show/760146.Laura_Strickland
Twitter: Laura Strickland Author @LauraSt05038951