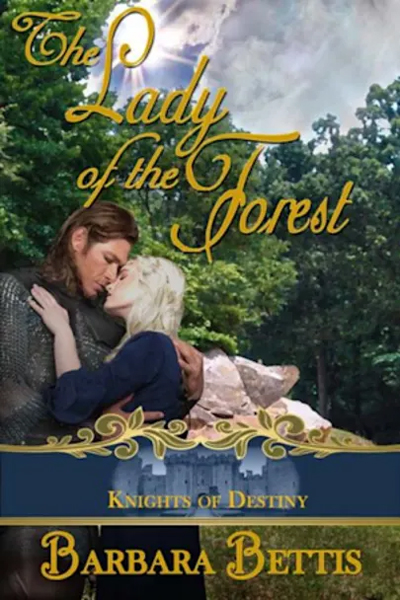 When her elderly husband dies, Lady Katherine fakes her own death and disappears into the forest with others escaping the brutish new lord. Determined to protect her people, she knocks the wrong man senseless. But Lord Henry isn't an enemy, he's the brother of her childhood friend. Although his tender confidence tempts her, she's bound by duty.
Henry of Chauvere has found the one lady he wants for his own, never mind she's tied him hand and foot. When he learns the king has ordered her to wed Stonehill's ruthless new master, he insists Kate seek haven with his sister. But she won't desert her friends. Henry vows to solve her problem, provided he catches a traitor before the threat from Kate's past catches her.
When a daring rescue compels Henry and Kate to join forces, their attraction grows into love. If only duty didn't drive them apart.

Buy the Book:

Excerpt:
Henry urged the gelding around and started back. A score of steps later, the calls sounded from just ahead. Movement to his right sent him in that direction. The boy came into view, stepping carefully onto an almost-bare tree limb.
"What's wrong?" Concern turned Henry's tone sharp as Jamie jumped to the ground.
"I feared—I'd not catch you." Tight lines etched the youngster's face. "It's Cade and Oscar. They're following."
Henry swung down beside him. "Have they been harmed?"
Jamie hung his head and gasped for breath, hands on his knees. "Nah. But awful ole Hawise… she saw Cade leaving…and sent up a shout. Said the lad that…freed Oscar…were the dead Lady of Stonehill. You gots to help 'em."
"How far back are they?" As he spoke, he took the boy's arm to help him sit.
"A ways. I ran ahead to catch you." He heaved in a lung-full of air and blew it out, then flattened a hand to his chest. "For awhile I thought my heart would get here a'fore me."
Kneeling, Henry ruffled the boy's hair. "You did well. Stay here and rest while I go for them. Are Sir Mortimer's men following?"
Oscar nodded, his unruly curls flopping into his eyes. "But they're going the wrong way for now. Cade took the south road 'till she could double back without 'em knowing."
****
"Cade said stay here, they'd come to you. If you gets lost in the forest, we'd have to go looking."
True. He hated to admit it, but traipsing through unfamiliar countryside might cost unnecessary time. Inactivity grated on his nerves, but he had little choice. He paced a circle around the tree Jamie leaned against until restlessness became too much. Bedamned to an unknown landscape. Kate might be in trouble.
"I'm going back," he announced.
"No need." Jamie nodded toward the trees. "They're coming."
Two figures on horseback broke through the underbrush, but Henry saw only the blood splashed down the front of Kate's tunic.